USS MG Vallejo SSBN 658
Memorial Wall
In fond remembrance of our shipmates on eternal patrol.
"There is a port of no return,
Where ships may ride at anchor for a little space.
And then some starless night the cable slips,
Leaving only an eddy at the mooring place.
Gulls, veer no longer, Sailor rest your oar.
No tangled wreckage will be washed ashore."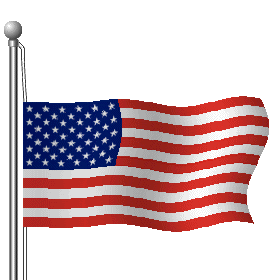 Sadly updated 03/JUNE/2021






































































































































If you have information that should be added to this page, please email it to me.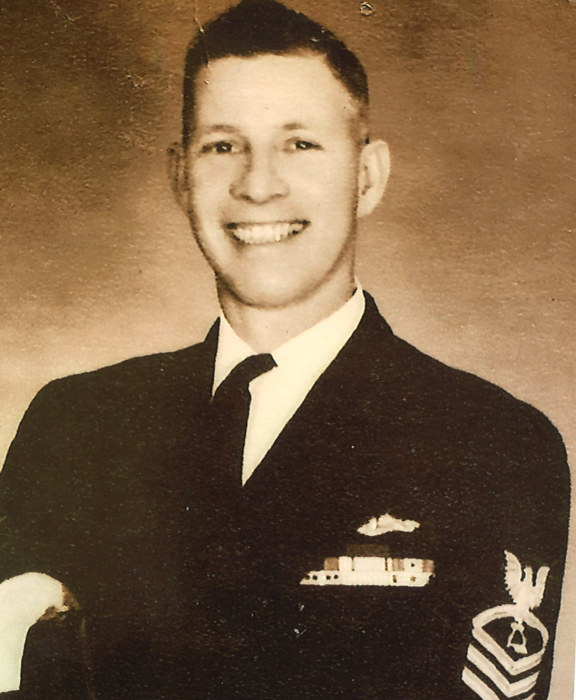 Melvin Lee "Mel" Slack, 90, passed away peacefully Thursday, December 24, 2020 at his home in Thermopolis, Wyoming. One of four children, he was born November 12, 1930, in Louisville, Kentucky, the son of Ezra and Bethel (Hatfield) Slack. The family moved to Fredericksburg, Indiana where Mel attended school. He joined the US Navy with Basic Training in the Great Lakes and spent 20 years on destroyers and submarines. Plank owner on the SSBN Woodrow Wilson and SSBN Mariano G. Vallejo, Mel retired in 1968. During his years in the Navy he enjoyed traveling the world, often bragging about traveling around the world 3 times, skiing in Switzerland, and swimming on the Equator. Following the Navy, he was employed in maintenance and construction. Mel's legacy is a long history of continued military service to the nation through his family. Five of his children served in the Air Force, Army, Marines and Navy. Combined years of service which include his children, grandchildren and great grandchildren total 141 years and growing. In 1954 he married Alice Wright. To this union three children were born. The couple later divorced. Mel married Billie Latham and they had one child, later divorcing. On December 27, 1969 he married Marjorie L. Lawrence in Sparks, NV. They celebrated their 50th wedding anniversary in 2019. To his stepchildren he was the father he did not have to be. A member of the Fleet Reserve, he also joined the Submarine Veterans of WY. He was a member of the Masonic Lodge, American Motorcycle Association and was a Boy Scout Assistant Leader. Mel enjoyed fishing, camping, riding motorcycles and was an arm chair fan of football, baseball and boxing. He loved playing practical jokes on others and enjoyed jokes played on him. Those cherishing his memory include his wife, Marge; sister, Elva Marth of Cookeville, TN; children, Jack Mayfield of Thermopolis, Bruce (Laura) Slack of Savannah, GA, Michael Slack of Joplin, MO, Evelyn Fox of Mitchell, SD, Nancy (Dave) Davies of Anaheim, CA and Peggy Slack-Lohmann of Jefferson City, MO; twenty grandchildren, thirty one great grands, one great- great grand, and daughter-in-law, Billee Mayfield of Thermopolis. He was preceded in death by his parents, brother, sister, two sons, a daughter, two grandchildren and a daughter-in-law. Mel took great pleasure in telling everyone that he was a direct descendant of the Hatfields, of the Hatfield and McCoy feud. Memorial services will be held Thursday, December 31, 10:00 AM at the Federated Community Church Hall with Pastor Ross Kershaw officiating. A light luncheon will follow.

James Lee "JIM" Day July 4, 1944 - February 5, 2021 Richland , Washington - After a valiant battle against COVID, James Lee "Jim" Day died peacefully on Friday, February 5, 2021, with two of his loving family by his side. He was 76 years old. Always an independent spirit, Jim was born on Independence Day, July 4, 1944 in Linton, Indiana to Avanell Bartlett and Harold Hubble. He graduated with the Class of 1962 from Marshall High School. Jim proudly served his country in the US Navy, and retired 1991 as a Chief Warrant Officer (CW04) and honorably discharged after 29 years. Over many ensuing years, he very much enjoyed the comradery of his fellow submarine veterans from across the country at annual reunions, sharing countless stories and memories of their time aboard the USS Mariano G. Vellejo SSBN 658. Frequently he proudly took his grandson(s) with him to experience this living history. After his military retirement in 1991, Jim started his journey at Hanford, first with Westinghouse, then Kaiser, Fluor, and DynCorp finishing up his 2nd attempt at retiring from Mission Support Alliance in 2011. As Jim would often say "When the work is done it's time for fun" and that's when Jim became a "full-time Papa," with all his "spare time" he worked with delight at making his grandchildren happy and proud! Jim left smiles wherever he went. Devoted to his faith, family and friends, he had a kind heart and expressed in tangible ways his genuine care for others, willing to lend a helping hand even in mundane ways like maintaining sprinklers for the cold winters to ensure lawns and gardens functioned properly as the seasons changed. As a Worthy Brother (literally and religiously), Jim was dedicated to his civic duty and ministry with the Catholic Parish of the Holy Spirit and to his brothers and sisters in the Knights of Columbus. Jim absolutely lived for his daughter Brandi and for ALL of his favorite grandchildren and great-grandchild. He so enjoyed being a fulltime Papa, attending all the huge milestones in their lives, including school events, football games, Takuwan Do belt achievements, music concerts, and transporting his granddaughter Aleeah to and from school (especially their DQ dates and her First Communion). Indeed, Jim was a devoted son, brother, husband, father and grandfather – a rich and true legacy. Over the years, Jim was a HUGE supporter of education. A graduate of Chapman University in California and nuclear power school, he strived to always learn something more and loved reading books (especially war histories), watching the news, virtually competing on Jeopardy, and listening to classical and jazz music while kicking back in his recliner and reciting the Rosary. He was a natural teacher, whether instructing other power operators or helping grandkids solve math problems. He delighted in assisting in their history and science projects (especially the roller-coaster made out of paper) and even claimed to have earned a number of A-grades! He was preceded in death by his father and mother, wife Patricia Day, and grandson Chase James Farrah. He is survived by his daughter Brandi Farrah, grandsons Jaden Scheuerlein and Jaxon Farrah, granddaughter Aleeah Farrah, and great-grandson Hunter Scheuerlein. He is also survived by stepsons Jim (Kendra) Poole and Jeff (Kristi) Poole, sisters Beverly (Dennis) Walston, Diane (Steve) Shaw, Phyllis Anderson, and Nancy (Keith), and brothers Scott (Marsha) and Bruce (Val). A memorial service for Jim will be held at Einan's at Sunset in Richland on February 22nd 2021, followed by graveside committal service with full military honors. The family is so grateful for the tremendous love and support extended to them over the past few weeks as they cared for Jim and now release him into God's eternal care and keeping.

1937 ~ 2016 Mr. Joseph N. "Joe" Werther, age 79, of Vancleave, MS, passed away on Sunday, April 17, 2016, in Moss Point. Survivors include his wife, Ann Werther, two daughters, Janine (Ricky) Danby and Jennifer (Allen) McAvoy, son, Joe Werther, two granddaughters, Emily McAvoy and Carly Danby, sister, Gail (Saul) Silverman and brother, Kenneth (Fran) Werther. A memorial service will be held at a later date. The Ocean Springs Chapel of Bradford O'Keefe Funeral Home is in charge of arrangements.

Obituary for Dennis A. Cook
Dennis A. Cook, 67, of Moline, died Saturday, August 10, 2019 at Genesis Medical Center East, Davenport. Visitation will be from 4-7 pm Wednesday at Wheelan-Pressly Funeral Home and Crematory, 201 E. 4th Ave., Milan. A celebration of life gathering will immediately follow visitation Wednesday at the Milan American Legion Post 569. A private burial will take place at Rock Island National Cemetery, Arsenal Island, where military honors will be presented. In lieu of flowers, memorials may be made to a charity of your choice. Dennis was born in Rock Island on February 27, 1952, a son of Jack and Shirley Gregg Cook. Dennis was a proud U.S. Navy veteran. He married Rose M. Nelson on February 14, 1994 in Nevada. Dennis worked as an electrician retiring from the Local 145 IBEW. He was a member of the Milan American Legion Post 569. Dennis was an avid horse racing fan. He also enjoyed a great cocktail, golfing and playing cards. Those left to cherish his memory include his wife, Rose Cook, Moline; children, Travis (Kelly) Cook, Rock Island, Mellisa (Tom) Normoyle, Moline and Brandon Hayden, Moline; grandchildren, Madison, Natalie, Melanie, Alexa and Lucas Cook, Carter, Nolan, Eli, and Izzy Hayden, Skyler, Riley, Ellie and Jaxson Normoyle and Seth Stubblefield; a sister, Donna Nesseler, Rock Island; and a nephew, Brian (Dana) Nesseler. He was preceded in death by his parents.

Obituary for John Richard Kimball
Mr. John Richard Kimball, age 68, passed away Tuesday, October 22, 2019 after a courageous battle with cancer. John was born in Muskegon on December 4, 1950 to George and Margaret (McEvoy) Kimball. He was a veteran of the United States Navy, having served as a submariner on the USS Sand Lance and the USS Vallejo during Vietnam. After serving his country, John was employed by Haworth for 21 years prior to his retirement. John helped develop the Mona Shores Sailor Soccer Program and served as the first boys varsity head coach. He loved to hunt, fish, and spend time at the family cabin in Walhalla on the Pere Marquette River. John was an avid Michigan State fan. On July 19, 1975, John married the former Cheryl Ann "Cheri" Greenwald and she survives him along with their three daughters, Sarah (Matthew) Carlyle, Katie (Jason) Jones, and Emily (Brian) Dewey; eight grandchildren, Taylor, Jordyn, Bryce, Logan, Sidney, Connor, Jackson, and Eleanor; one sister, Patricia (Fred) Yonkers; one brother, Charles (Carla) Kimball; two sisters-in-law, Kathie Vanderwater and Pam (Dan) Matthews; and several nieces and nephews. MASS OF CHRISTIAN BURIAL will be held 11:00 AM Tuesday, October 29, 2019 at St. Francis de Sales Catholic Church with Fr. Charles D. Hall presiding. VISITATION will be from 5-8 PM Monday, October 28, 2019 at The Lee Chapel of Sytsema Funeral & Cremation Services, 6291 Harvey St., Norton Shores, MI 49444 and one hour prior to his service on Tuesday. MEMORIALS in memory of John may be directed to the Harbor Hospice Foundation or to the Children's Leukemia Foundation of Michigan.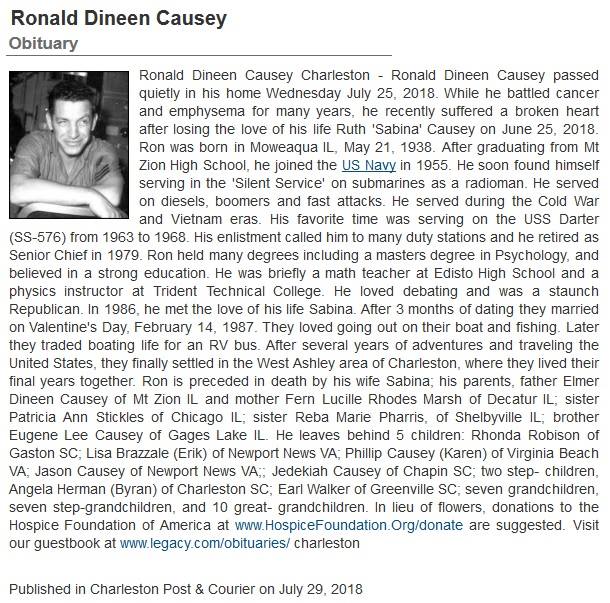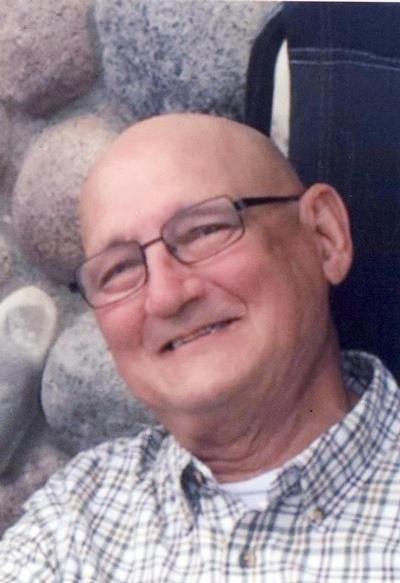 John Michael (Lichaczewski) Ruditis, at the age of 67, of Wakefield, Mi., passed away on April 15, 2018 at home after a long and courageous fight with stage-four cancer. John was born on May 12, 1950, in Ironwood, Mi., son of the late John and Rose (DiGiorgio) Lichaczewski. At age 6, he was adopted by Anton P. and Margaret (DiGiorgio) Ruditis. He attended St. Ambrose Catholic School and graduated from Luther L. Wright High School in Ironwood Michigan in 1968. John joined the Navy on May 28, 1969 as Logistics Management Specialist. During this time, he served on the USS Fulton (AS-11) and then the USS Robert A. Owens (DD-827). John then was given orders to relocate to Keflavik, Iceland on independent duty. Before moving to Iceland, John asked his beloved Judith Wiita of Wakefield to become his wife, and they were united in marriage on December 18, 1971 at St. Ambrose Catholic Church in Ironwood, Michigan. Judy accompanied John to Iceland until he had new orders that returned him to the state of Illinois at the Recruit Training Command (where Jeremy was born). After a short recruiting assignment in Ironwood Michigan he was transferred to the USNS Bowditch (T-AGS-21 Oceanographic Research Unit). He then went back overseas serving on the USS Holland (AS-32) in Holy Lock Scotland (where Nikki was born). To have more adventures in his life, he attended submarine school in Groton, Connecticut and was placed on the USS Mariano G. Vallejo (SSBN 658). He later returned back to Illinois to Recruit Training Command Staff duty. The love for being on submarines allowed him to return and had him advancing as Chief of the Boat on the USS Daniel Boone (SSBN 625) and then as one crew on the USS Woodrow Wilson (SSBN 624). After his time with the Woodrow Wilson, he was stationed in Portsmouth Virginia as Command Master Chief of the Atlantic Fleet Integrated Logistics Activity and then decided to retire after 26 years of dedicated service. Together John and Judy were blessed with two children Jeremy (Maria Ferrell) and Nikki (Josh Irvin) and later adopted Shanntel and Trinety. Samantha Irvin (Granddaughter, 20) and Alexander Irvin (Grandson, 16) also survive. Other survivors include brother, Bob (Darlene) Green of Ontonagon, Paul (Sherrie) Ruditis, sister, Debbie (Dave Wilcox) Ruditis from California, and brother, Kyle (Tammy) Thompson from Gurney, Wisconsin; four brothers-in-law, Donald Wiita, Michael (Sharon) Wiita, Thomas Wiita, Gerald (Kathy) Wiita all from Wakefield; five sisters-in-law, Kathy (Dwayne) Fisk, Nancy (Jim) Clowney, both from South Carolina, Peggy (John) Garvey of Illinois, Amy (Mike) Rahko, Ironwood and Vicky Templer (Steve) Hurley; numerous nieces, nephews and cousins and a host of good friends. After retirement John worked as Shipping Manager for Action Floors in Mercer, Wisconsin for 17 years. During John and Judy's marriage they hosted fourteen exchange students from twelve different countries and were foster parents to several needed children to also include stray children that Jeremy and Nikki brought home under their wings and sponsored a little boy (Angel) from the Dominican Republic. John was a member of All Saints Lutheran Church, was the District Commander of the Veterans of Foreign Wars (VFW) and Commander of VFW of Bessemer 3673. He was a member of the American Legion and the Adjutant and Treasurer of the Disabled American Veterans. When not volunteering in these positions, he loved spending time with his family camping, fishing, playing cards and board games. He was an avid reader (especially Tom Clancy novels) and loved to play fetch with his dog Butchie. In the colder weather he enjoyed hot tubbing, snow sledding and traveling to the warmer climate islands. Besides his biological and adopted parents, John was preceded in death by his mother-in-law, Viola Wiita and father-in-law, Donald Wiita. A memorial service of John's life will be at All Saint's Lutheran Church at 1202 Putnam Street Wakefield, Michigan on Thursday April 19, 2018 at 11:00 with the Reverend Bill Jacobson officiating. The family will receive relatives and friends at the church beginning at 10:00. Full military rites will be conducted by a joint Bessemer and Wakefield VFW and American Legion Honor Guard. John's remains have been cremated. Following the service will be a lunch served in the fellowship hall Ketola- Burla Funeral Home is in charge of the arrangements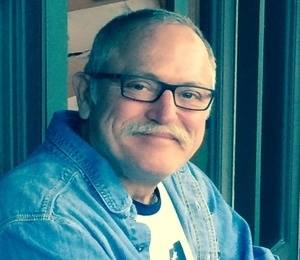 Dale W. McFarland, born December 27, 1950, went to heaven on November 9, 2017 at the age of 66. Loving husband and best friend of Susan (Hoelting) McFarland, married 39 years. Beloved and very proud father of Katie (Eric) Roth and Kevin McFarland. Loving son of Carolyn and the late Alvis McFarland. Beloved brother of Patricia (Jerry) Janowski and awesome and fun uncle of Karen Janowski and "Gunc" to Peyton Watsek. Dear son in law of Don and Jean Hoelting. Great brother in law to Linda and Jeff Webb, Jim and Lori Hoelting and Mike and Karen Hoelting. Uncle to many nieces and nephews. Dale was a United States Navy veteran who served his country in the nuclear submarine force during The Cold War on the USS Mariano G. Vallejo. We are heartbroken! We cannot express in words how deeply he will be missed by his family and friends, including his pets and grandpets. He loved animals! His homes away from home were Ted's Harley-Davidson and Olympic Lanes, where he had so many great friendships. He loved to ride his Harley and he loved to bowl, even had a few 300 games. Dale had an easy going personality, was a world-class barbecuer and gardener, had a quick wit and unparalleled sarcasm, which we loved so much and will miss every day! The family requests that any donations made in Dale's honor are in the form of food, blankets, toys or monetary donations to your local animal shelter. There will be no funeral service, however there will be a celebration of Dale's life to be announced by his family at a later date.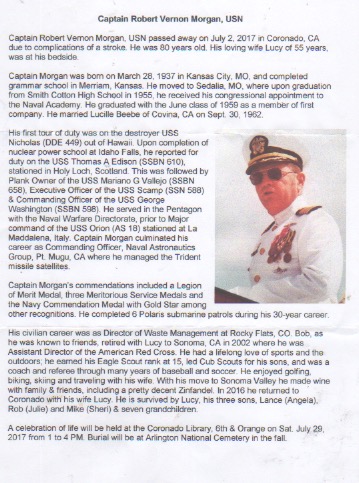 Gary Burrell was born and raised in Asheville, NC where he lived until he joined the US Navy which he stayed for 21.5 years. He was a graduate of Enka High School and a son of the late Willie Burrell and Mildred Burrell-Boone. He is survived by his wife of 36 years, Karen Burrell, his brother Danny Burrell and wife Mary, his sister Teresa Herrin and husband David, his son Brandon Burrell and his granddaughter, Sarena Burrell. A memorial service will be held at Starnes Cove Baptist Church in West Asheville at 1 PM on Saturday January 14, 2017 followed by the receiving of friends.

John Barry Cameron born on July 29, 1934 passed away on June 17, 2016. A native of Chicago, Illinois with predominant upbringing in Indianapolis, Indiana, John had been a resident of Chesapeake and Front Royal, Virginia since moving from his beloved San Diego, California home in June 2012. John served 29 years in the Navy starting as a Commissary man at the age of 17 entering the navy on January 6, 1953 and retiring as a Navy Mustang, CWO4 Food Service Warrant on August 1, 1982. He is a veteran of both the Korean and Vietnam Conflicts. His full military career included challenging tours at Naval Ordinance Test Station China Lake, Special Support Activity Inchon, Korea, Naval Hospital Yokosuka, Japan, USS TORTUGA, and began his Submarine Service in 1960 qualifying SS onboard USS TINOSA (SSN 606) out of Portsmouth, New Hampshire and New London, Connecticut. He Commissioned the USS MARIANO G. VALLEJO (SSBN 658) at Mare Island in Vallejo, California, and served on the boomer out of Guam. He was a Senior Mess Management Specialist Instructor at Service School Command at Naval Training Center, San Diego, and then onboard USS SPERRY (AS 12). Upon commissioning as a CWO2 Food Service Warrant Officer, he reported to Naval Supply Corps School in Athens, Georgia with follow on tours onboard USS CONSTELLATION (CV 64), Naval Administrative Command, Naval Training Center, San Diego, Navy Food Service School and then as OIC of the Food Service Management Team in Pearl Harbor, Hawaii and then retiring as the BEQ/BOQ Manager at NAS Miramar. John has always been an active member of the Kearney Mesa VFW in San Diego and fully supported the VFW, American Legion and Moose organizations. He is survived by his son, US Navy Retired Commander Dennis Cameron, a LDO Mustang of 36 years naval service, and his wife Sung, his daughter Denise Peacott a special education assistant at New Castle Elementary School and her husband David also a retired LDO Mustang Commander of 34 years naval service, his daughter Debra Duckworth a NFCU employee and her husband Ken a US Army veteran of Front Royal, Virginia and his daughter Doris Buzzell an Administrative Assistant at Orange County High School and her husband Joe a US Navy Veteran. John has 11 grandchildren and 11 great-grandchildren. John will always be remembered as a patriot who would give the shirt off his back to help others and of course a die-hard San Diego Charger fan.

Sherrills Ford – Bill Griffin, 77 of passed away peacefully on September 1, 2015 He was born January 25, 1938 in Chicago, Illinois. He retired from the US Navy in 1974 as E-9 Master Chief after 20 years of service, along with retiring from McGuire Nuclear Station in Huntersville, North Carolina in 2003. Bill loved life, his family, the lake, his dogs and the Chicago Bears. He will be missed dearly by so many people that knew and loved him. He was the son of the late Mr. and Mrs. Michael H. Griffin of Chicago Illinois. In addition to his parents, he was proceeded in death by his sister Patricia Griffin Jancich and daughter Colleen Louise Griffin. Bill is survived by his wife Judy Griffin, daughters, Bonnie Griffin Phillips, Wendy Griffin Presley, Laura Griffin McPherson, Kim Allsup, Debbie Mathis and son Michael William Griffin along with 18 beautiful grandchildren and 2 great grandchildren. The family will receive friends Friday, September 4th. 6:00 p.m. – 8:00 p.m. at James Funeral Home in Huntersville, NC and online condolences can be made to jamesfuneralhomelkn.com In lieu of flowers a donation can be made to Hospice of Presbyterian Hospital in Charlotte, NC or your local branch.

Johnny William Logan, 63, of Oakland, MD, died Tuesday, July 28, 2015 at Garrett County Memorial Hospital, Oakland. Born August 4, 1951, in Ellijay, GA, he was the son of the late Claude Issac and Ora Bell (Woods) Logan; he was also preceded in death by three brothers, James Logan, Joe Logan and Billy Logan. Johnny retired after 20 years 6 months from the U.S. Navy in submarine service. He was Chief of the Boat for the USS Sea Devil and the USS Vallejo. By the end of his navel career he was Command Master Chief of Sub Group 6. He was a contract engineer for AROTEC for 20 years. Johnny was a member of the Deer Park United Methodist Church, Deer Park, MD, Fleet Association, Goose Creek, SC and the Enlisted Association. He was a farmer after his retirement. He is survived by his wife, Susan Diane Logan; two sons, Jason Claude Logan and Terry Clayton Logan, both of Jasper, GA; a daughter, Vanessa Fay Logan Chastine, Oakland; two brothers, Coatus Logan, Bush, LA; Fairley Logan, Chatsworth, GA; a sister, Shirley Davis, Ellijay, GA; six grandchildren; Lindsey Brook Logan and John Taylor Logan, both of Jasper; Clay Daniel Logan and Brandon Wade Logan both of Ball Ground, GA; Bridgette Diane Logan and Logan Ross Chastine, both of Oakland. Friends will be received at the Newman Funeral Homes, P.A., 1100 Memorial Dr., Oakland on Friday from 2 to 4 and 7 to 9 pm. Services will be conducted in the Deer Park United Methodist Church, Deer Park, on Saturday, August 1, 2015 at 1:00 pm with Pastor Barbara Rexrode officiating. Interment will be in Deer Park Cemetery. Military honors will be accorded by the various veterans organizations of Southern Garrett County. Expressions of sympathy may be directed to the Deer Park Volunteer Fire Department, P.O. Box 3152, Oakland, MD or to the Southern Garrett County rescue Squad, P.O. Box 378, Oakland, MD. Condolences may be sent to his family at www.newmanfuneralhomes.com.
http://images.expressionstributes.com/mac/funeralinformation.jp
Visitation
Friday from 2 to 4 and 7 to 9 pm.
Services
Services will be conducted in the Deer Park United Methodist Church, Deer Park, on Saturday, August 1, 2015 at 1:00 pm with Pastor Barbara Rexrode officiating.
Interment
Interment will be in Deer Park Cemetery

Jack J. Kinzer passed away at the age of 77 on May 15, 2015 in Richland, WA of natural causes. His parents were Harlen & Alice Mae Kinzer. Originally from North Platte, NE where he lived for most of his childhood and graduated high school.
He left North Platte to attend Kearney State Teachers College and eventually join the United States Navy in 1956. The Navy took him to nuclear training school in Idaho Falls, ID where he met his wife of 50 years, Jean Korte. They married in 1960.
His Navy career in the submarine fleet gave him the opportunity to travel to many places in this country and parts of the world with his family that included Jean and two children, Susan and Kevin. He achieved the rank of Master Chief upon serving his country for 22 years.
After being honorably discharged from the Navy in 1978, he moved on to work in the nuclear power industry in California, Arizona, and finally coming to the Tri-Cities in 1994 to work at Hanford until his retirement in 2010.
Jack lived a quiet life in West Richland, enjoying his home and spending time with Jean. He had a great love for his dogs and took in several over the years who needed a good home. Jack had a great gun collection and spent time at shooting ranges as well as flying his remote controlled airplanes. He and Jean did some travelling during their retirement with friends from their years in the Navy.
Jack was preceded in death by his wife Jean who passed in 2011 as well as his parents and brothers Maynard and Bud White.
He leaves behind his daughter, Susan Kinzer, son Kevin Kinzer, daughter-in-law Paula Kinzer and two grandchildren, Jacob & Quinn, who he was extremely proud of.
There will be a small service on Saturday, May 30 at 2015 at 2pm at the Sunset Gardens Cemetery in Richland. He will be interned with Jean in a small garden at that time.
In lieu of flowers, please make a donation to the Wounded Warriors Project.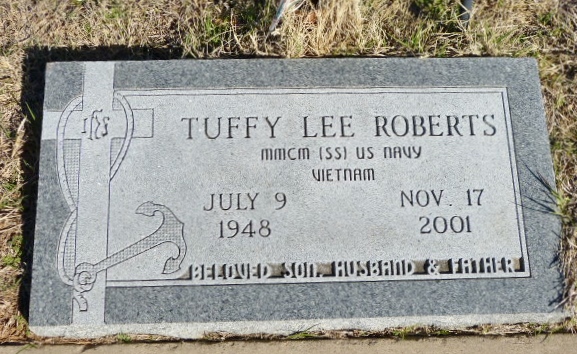 Son of William Wythe "Bill" Roberts and Mary Maxine Drake of Weatherford. Husband of Edna Janice Edwards Tuffy Lee Roberts, owner of Tuffy's Air Conditioning, died in Weatherford, Parker County, Texas. He was born in Monahan's. Graduate of Weatherford High School Texas Class 1966. He owned a ranch and raised Arabian horses. He was a Navy veteran. He was preceded in death by his son Terry Lee Roberts.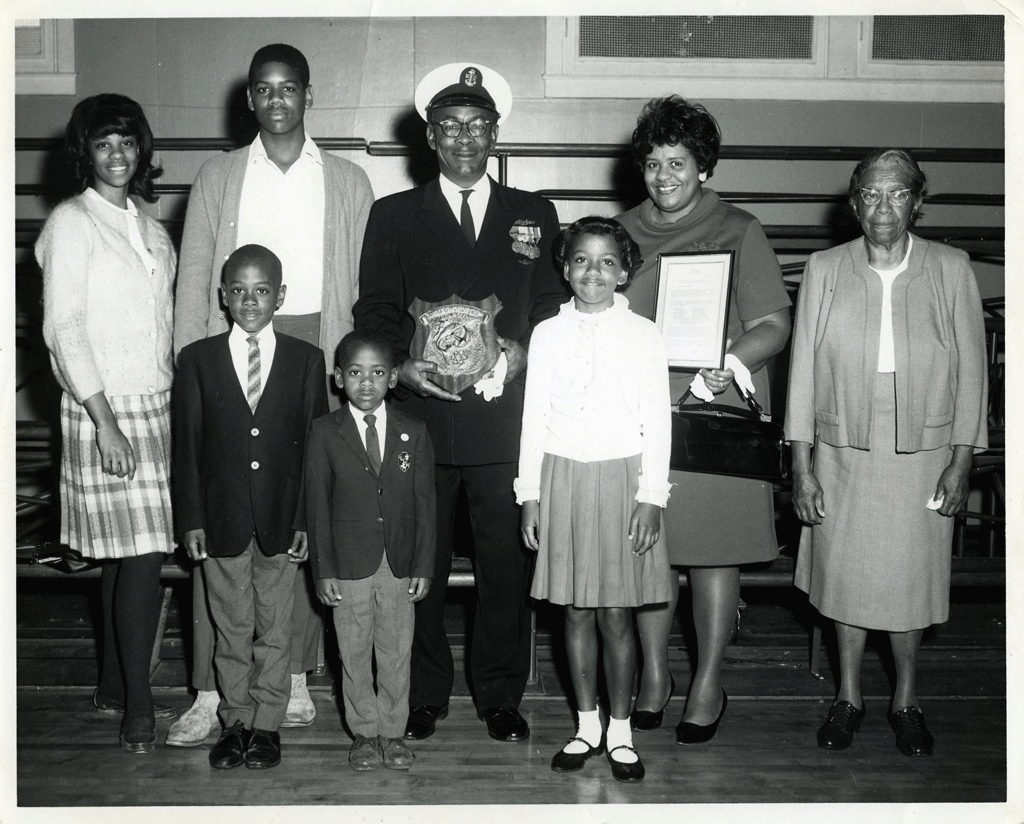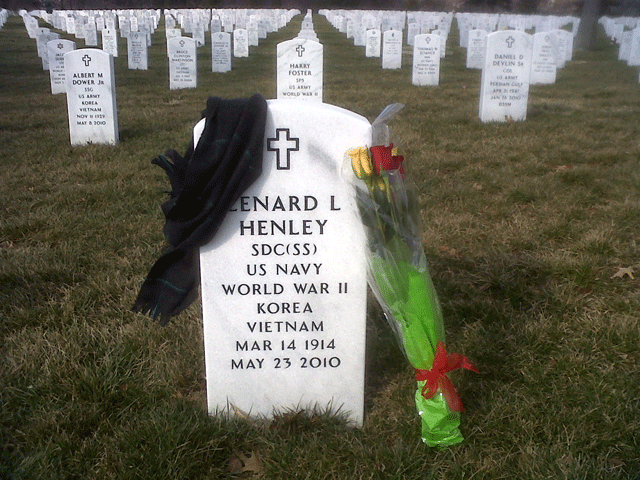 Lenard Henley was born March 14, 1914, to Knoxville, Tennessee to John and Mary Priscilla (Lenoir) Henley. He spent his childhood years in Tennessee before the family moved to Cleveland, Ohio, when Lenard was in elementary school. Lenard is survived by his wife, Narcissus; children, Gregory Howard, Lynette Henley, Ricardo (Barbara) and Michael (Denise); grandchildren, Robyn Bacon, Valencia Kamara (O.Z) and Robert Henley; his great-grandchild, Zoriya Kamara; and his sisters, Catherine Green and Helen Crawford. He was preceded in death by his parents, John and Mary Henley; his sister, Johnie Mae Daniels; daughter ,Camille (Debbie) Howard; and grandson, Alexander Roberts. Chief, deacon, WWII veteran, friend, father, grandfather, great-grandfather, lifelong jazz and later Gospel music aficionado, Lenard lived a full and fulfilling life that spanned nearly a century. He turned 96 years with his family around him. Lenard began his 31-year career in his beloved Navy at the age of 21. Henley entered a very segregated Navy in the summer of 1936. It was in New London where Lenard had his first encounter with the elite of the naval forces: submarines. In 1937 there were no Blacks on subs in the Navy in any capacity. Lenard's goal was to get assigned to sub duty, to be one of the first African-Americans to serve on subs. February 1938, Lenard was assigned for duty on U.S.S. Seal, a salmon class submarine, as a cook and radio operator. The Ortolan, a submarine rescue ship, conducted exercises off the coast of California in 1939 until Dec. 7, 1941, with the Japanese attack on Pearl Harbor. The Ortolan immediately set sail for Pearl Harbor. Lenard was one of 18 divers who would spend the next six months, salvaging the U.S.S. Oglala, the flagship of the Pacific Mine Sweeping force. For his work on raising the Oglala, Lenard received the first of several commendations. February 1945, the Waters joined in the assault on Iwo Jima with Lenard aboard. The Waters provided underwater demolition, screening, and bombardment fire. Subsequent to the successful capture of Iwo Jima, the Waters was deployed to and participated in the attack and capture of Okinawa. Lenard served on the Waters until the end of the war in additional actions and enemy engagements. Lenard retired honorably from the Navy after 31 years, numerous medals and commendations, on Dec. 1, 1966, in Vallejo at Mare Island Naval Shipyard with his family by his side. Lenard worked at C & H Sugar in Crockett California from 1966 to 1980. Lenard continued working past retirement age, transporting cars to dealerships in and around the Vallejo area into his eighties. Lenard was an active church member of Good Samaritan Church for decades beginning in the 1960s. His dedication to the church and its members was rewarded by his election to chairman of the Deacon Board. Lenard joined Union Baptist church in mid-1989. He became an active member and deacon at his new church; even in his 80s, he was always available to help out at the church and especially enjoyed being part of the Kitchen Crew. An active man his entire life, only in the past three years, as he reached into his 90s, did infirmity slow him down. Even in his final months, his mind was sharp, his memories vivid, and his sense of humor intact. He was a lion to the end. Published in TimesHeraldOnline on May 28, 2010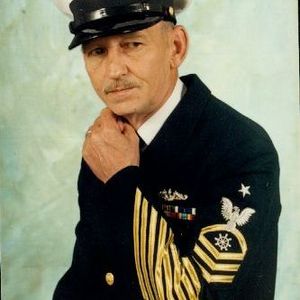 Milan 'Mike' Harring, Sr., age 72, husband of Phyllis Ann ShipleyHarring, passed away on Tuesday morning, November 18, 2008 at Roper Hospital in Charleston, SC. Friends and family of Mr. Harring are invited to attend his funeral service on Saturday, November 22, 2008 at 10:30 am at CAROLINA MEMORIAL FUNERAL HOME CHAPEL, 7113 Rivers Avenue, North Charleston, SC 29406. Entombment will immediately follow at Carolina Memorial Park. The family will receive guests at the funeral home on Friday evening, November 21, 2008 from 6:00 until 8:00 pm. Mr. Milan Conrad Harring, Sr. was born on December 4, 1935 in Kalamazoo, MI to the late Miland Elmer Harring and the late Eleanor Nellie Chipman Harring. Mr. Harringproudly served his country in the United States Navy as a Submariner for over 34 years and retired as a Quarter Master Senior Chief. His involvement in the Korean War of 1954, Vietnam advisement 1955-1964, Cuban Missile Crisis 1962, Vietnam War 1964-1975, eleven cold war campaigns 1976-1986, and the beginning of Persian Gulf Campaign in 1987 guaranteed the freedom of our country. He was a member of the American Legion Post 166 of Goose Creek and a past member of the Port City Bass Club and he was of the Baptist faith. Mr. Harring was a wonderful husband, father, grandfather, great-grandfather, brother and friend to many. He will be greatly missed by all who knew him. Survivors include his wife of over 39 years, Mrs. Phyllis Ann Shipley Harring, of Goose Creek; two sons, David Harring, and his wife Michelle, of Hanahan, Milan C. 'Miles' Harring, Jr., and his wife Julie, of Fairfield, CA; two daughters, Donna Cumbee, wife of the late Donald Cumbee, of Goose Creek, SC and Kim Muir of Goose Creek; eight grandchildren, Corey Burke, Jordan Aarant, Thomas and Sam Muir, Elliott Cumbee, Chase and Sydney Harring and Madison Harring; ; two great grandchildren, Corbin and Orin Burke; one sister, Gerry Lee Schaberg, and her husband Tom, of Portage, MI; six brothers, Terry Harring of Delton, MI, Thomas Harring, and his wife Eileen, of Portage, MI, Roland Harring, and his wife Jill, of Paw Paw MI, KeithHarring, and his wife Patsy, of Paw Paw, MI, Clifton Harring and Rina Carpenter of Portage, MI and Scott Harring, and his wife Becky, of Moncks Corner, SC; and numerous nieces, nephews and cousins. Flowers will be accepted at the funeral home. A memorial message may be written to the family by visiting our website, www.carolinamemorial.com. Funeral arrangements provided by CAROLINA MEMORIAL FUNERAL HOME, 7113 Rivers Avenue, North Charleston, SC 29406 Phone: 843-797-2222.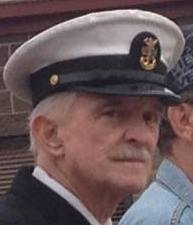 William "Bill" Gray, 76, passed away on February 25, 2015. He was preceded in death by a brother, Dave Gray. Bill is survived by his wife of 53 years, Johnalee, whom he loved dearly along with their four sons, Keith, William "Billy", Jon, and Kevin, one brother, Jim, and eight grandchildren. Bill was retired from the U.S. Navy as a Master Chief Petty Officer after 22 years of service to his country. After retiring from the Navy he spent over 15 years with General Motors. He was a very active member of Immanuel Lutheran Church since 1974 and had a love for his church and the activities from softball to reading and volunteering his time to the children at the school. Bill will be remembered as a husband, father, grandfather, mentor, and friend. The family will receive friends from 9:30 a.m. until the service time at 11 a.m., Monday, March 2, at Immanuel Lutheran Church, 6325 Raleigh LaGrange Rd. Memphis TN 38134. Interment will be in Memorial Park Cemetery. In lieu of flowers, memorials may be made to Immanuel Lutheran Church. Memorial Park Funeral Home, "Behind the stone wall", 901-767-8930. Condolences may be offered at www.MemorialParkOnline.com

Stephen John Yachuw, 65, of Elkins, WV, passed away suddenly, on Thursday, March 21, 2013 at the United Hospital Center. He was born in Swoyersville, PA on November 29, 1947, a son of the late John Yachuw and Leatrice Shirley Glaspell Yachuw. He is survived by his wife, whom he married April 13, 1968, Kathy Sue Fankhauser Yachuw who resides at their residence in Elkins. Also surviving are one son, Craig Allen Yachuw of Richmond, VA; one daughter, Melissa Ann Yachuw of Elkins and five grandchildren, David, Kacey, Bethany and Stephen Yachuw and Alyssa Williams. He was a 22 year retiree of the US Navy serving in the Viet Nam War and also retired after 20 years as a school teacher from the Elkins Mountain School. There will be no public visitation and per Mr. Yachuw's request he will be cremated. In lieu of flowers, contributions may be made in Memory of Stephen Yachuw to the Wounded Warriors Foundation, PO Box 758517, Topeka, KS 66675 and the American Diabetes Association, PO Box 11454, Alexandria, VA 22312. Expressions of sympathy may be extended to the family at www.amoscarvelli.com . A service of Amos Carvelli Funeral Home.

James Franklin Hume (Jim) left this earth January 15, 2015 at 12:17 am.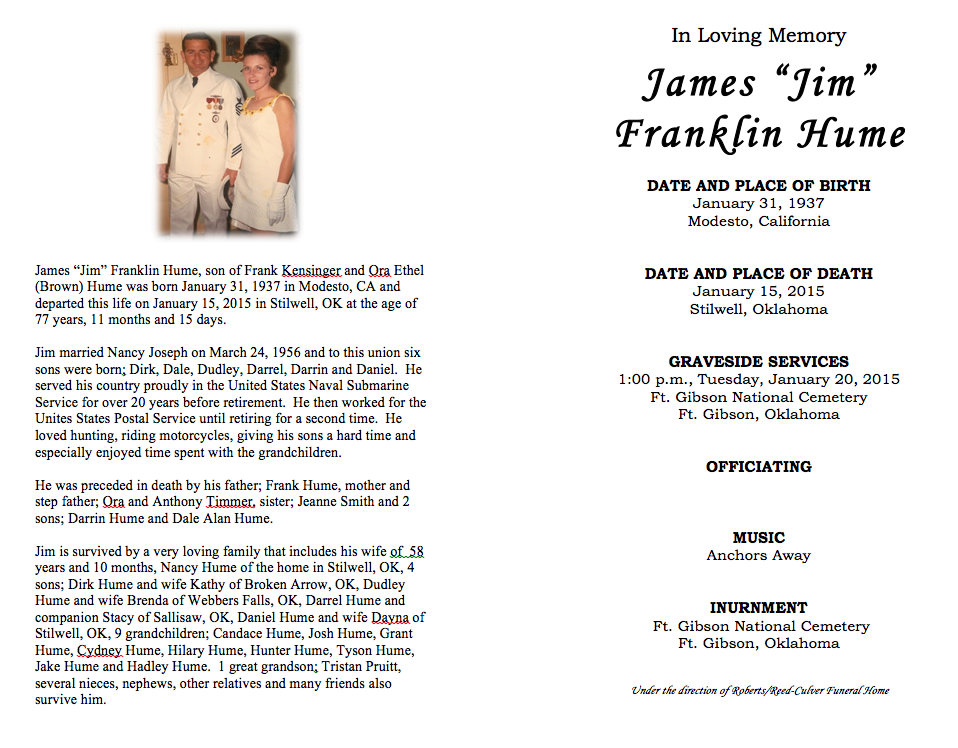 The family request not to send flowers but the please donate to one or both of the following:

Vets Association http://vetsaa.org/477323
Cancer Society https://donate.cancer.org/index

If you would like to let the family know that you donated, please send a card stating such to:

RR 1 Box 114
Stilwell, Ok. 74960


Ralph E. Carr Sr. Obituary
BREWER AND BANGOR - Ralph E. Carr Sr., 77, died Wednesday, Jan. 16, 2013, at a Bangor health care facility with his wife, daughters; and grandson, Travis, by his side. He was born June 23, 1935, in Old Town, son of Ashwood F. and Bessie (Whiting) Carr.Ralph joined the U.S. Navy in 1953, where he proudly served 20 years, retiring in 1973 as a master chief engineman serving aboard nuclear powered submarines. He then moved back to Maine and opened Ralph's VW First Aid, where he specialized in Volkswagen repair, but would work on anything with a motor. In 1992 Ralph met and married his guardian angel, Helen. They celebrated 20 years of marriage this past July.Surviving, in addition to his wife, Helen Carr, are his sons, Ralph Jr., Leroy, Jeff, Ronnie and wife, Karen, Michael and Matt "Beebs"; daughters, Wuanita and significant other, Bob, and Jennifer and husband, Tim; two brothers, Fred Carr and his wife, Lorraine and Francis Carr, and his wife, Anna; two sisters, Dot Sinclair and Freida White; many grandchildren, great-grandchildren, nieces and nephews. In addition to his parents, he was predeceased by a brother, Bobby; sister, Corinne; daughter, Heidi; son, Leslie.Funeral services will be held 11 a.m. Tuesday, Jan. 22, at Brookings-Smith, 133 Center St., Bangor, with the Rev. Dr. James L. Haddix, pastor and teacher of All Souls Congregational Church, Bangor, officiating. The family invites friends and relatives to share memories and refreshments after the funeral service at the Family Reception Center of Brookings-Smith, 163 Center St., Bangor. Condolences to the family may be expressed at www.brookingssmith.com - See more at: http://obituaries.bangordailynews.com/obituaries/bdnmaine/obituary.aspx?pid=162435565#sthash.GWWo1Pau.dpuf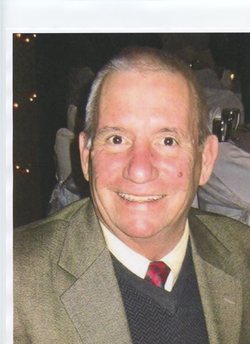 Charles Hansel ("Charlie") Breedlove, Jr. , age 65, of Sharpsburg, GA passed away Wednesday, November 26, 2014 at Sacred Journey Hospice in McDonough, GA. Charlie was born in Athens, GA on December 13, 1948, son of the late Charles Hansel Breedlove, Sr. and Frances Freeman Breedlove. He graduated from Jackson High School in 1966. While in high school, he was very active in sports, especially football. He attended Presbyterian College in South Carolina on a football scholarship for a year. He married "his bride," Karen Kersey on September 13, 1969. That same year Charlie went into the U. S. Navy. He served for ten years, mostly in submarine service. He went into the graphics business as a technical support engineer where he was employed by Silicon Graphics headquartered in California. Charlie was quite a man, easy going, made friends so easy, and was a great friend to all who knew him. He was a great dancer, loved "sports statistics ", and "thought" he could play the guitar. He loved model airplanes, fishing, and four-wheeling. He was an avid Georgia Bulldog fan. Charlie was a great "jokester." He taught his granddaughter Emma all the things he liked to do, and he loved and cherished her very much. Survivors include his wife of 45 years, Karen Kersey Breedlove; daughter and son-in-law, Kim and Ken Graves; granddaughter, Emma Kersey Graves; brother, Bob and Susan Breedlove; sisters, Gay and Tony Grant, Merri and Gary Pennington and Joy Wedemeier, and several nieces and nephews. A memorial service for Charlie Breedlove will be Wednesday, December 3, 2014 at 2:00PM in the chapel of Haisten Funeral Home in Jackson with military honors. Dr. Ed Hoard will officiate. The family will receive friends for one hour prior to the service. You may sign the on-line guest register by going to www.haistenfuneral.com Haisten Funeral Home of Jackson, GA is in charge of arrangements for Charles Hansel (Charlie) Breedlove, Jr.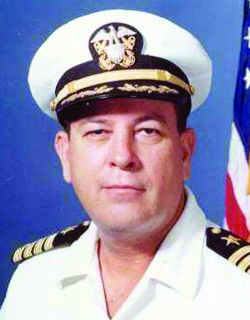 John Kerwin "Jack" Nunneley October 19, 1927 to November 11, 2014 Captain John Kerwin "Jack" Nunneley, USN Ret., passed away peacefully, in the loving care of his family on Veteran's Day. He was 87 years young. A third-generation native Californian, Jack was raised on an apricot-and-prune ranch in Saratoga. He attended Los Gatos High School and Santa Clara University before being appointed to the U.S. Naval Academy in Annapolis. There, he met and married the love of his life, Cynthia Ainsworth Flynn. He served in the Navy from 1951-81 and was qualified to command nuclear submarines. His final tour was as the commander of the Mare Island Naval Base, where he had previously been stationed in 1966 to commission and become the first commander of the USS Mariano G. Vallejo (SSBN-658), a ballistic-missile submarine. Those who knew Jack remember his many, often hilarious, stories about life at sea and the camaraderie of those who serve together. After retiring from the Navy, Jack pursued his passion for community service and was very active in the United Way, Rotary Club, and other philanthropic activities. He moved to Scotts Valley in 2008 after the untimely loss of Cynthia to live with his son, John Jr.. He is survived by his three loving children, Catherine, Cynthia, and John Jr., seven grandchildren, and three great-grandchildren. He will be missed and always loved by all who knew him. A private memorial will be scheduled for a future date.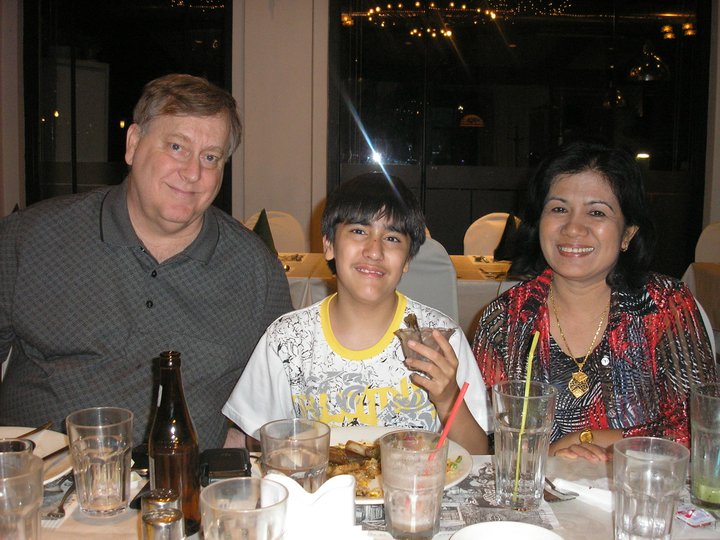 Edwin (Skip) B. Attaway, 60, of Lexington Park, MD died February 7, 2014 at the Washington Hospital Center. He was born in Pittsburgh, PA. He was the son of the late Edwin C. Attaway and Betty Attaway. Edwin B. Attaway lived in Lexington Park, MD for two and a half years. In his early years he worked as a United States Navy submarine sailor, this paved the way for him to find a job with the Boeing Company. He was a hard worker, punctual and truly dedicated to Boeing for 34 years. He loved dogs trained dogs to hunt, and enjoyed going to dog shows. He was a simple man and loved his family. He donated goods to the poor and needy in the Philippines. He appreciated good cooking, enjoyed traveling, and sightseeing with his family. He liked to work with computers. Edwin B. Attaway is survived by his wife, Melchora C. Attaway and son Richard Attaway of Lexington Park, MD brother Richard Attaway of Erie, PA, and sister Jean Manchester of Pittsburgh, PA. The family will receive friends on Saturday, February 15, 2014 from 9:00 AM – 10:00 AM in the Mattingley-Gardiner Funeral Home Leonardtown, MD. A Funeral Service will be held on Saturday, February 15, 2014 at 10:00 AM in the Mattingley-Gardiner Funeral Home Chapel Leonardtown, MD. Interment will be private.. Arrangements provided by the Mattingley-Gardiner Funeral Home, P.A.

EDWARD B. JOYNER GREENSBORO Mr. Edward B. Joyner, 65, passed away Thursday, April 10, 2014 at his residence in Greensboro. A memorial service will be held at 6 p.m. on Monday, April 14, 2014 at Forbis & Dick Pleasant Garden Chapel. Edward was born in Virginia on June 19, 1948 to the late Archibald & Mildred Wright Joyner. He served as Senior Chief in the US Navy, and was retired from Micro Tech as a Project Manager. Left to cherish his memories are wife, Vickie Havice Joyner and daughter, Amy Vanhorne (James). In lieu of flowers memorials may be made to Wounded Warrior Project 4200 Morganton Road, Suite 300 Fayetteville, NC 28314 Online condolences may be made at www.forbisanddick.com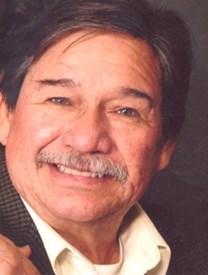 Mike Villalobos Jr.
(1947 - 2014)
Mike Villalobos Jr., 66, passed away on February 5, 2014. He was a lifelong resident of El Paso, Texas. He was a U.S. Navy Veteran SSBN 658. (1967-1970) He is preceded in death by his parents, Miguel Sr. and Francisca Villalobos and brother, Chava Villalobos. He is survived by his wife, Nancy Villalobos, sons Paul Ochoa (Rachel), Chumpies Ochoa (Jennette), Michael Villalobos III, Thomas Villalobos, brothers Armando Villalobos (Carmen), Jerry Villalobos (Claudia), Jaime Villalobos, sisters Martha Carlos (Leopoldo), Mary Villalobos and 9 grandchildren

God opened his arms and welcomed Mark A. Jensen (Ned Pepper) on June 2, 2014. Surrounded by family, friends and angels, he died at Hospice of Southern Kentucky after a diabetic seizure left him in a coma. His sweet soul was greeted in heaven by his grandparents, Clifford and Mamie Covington of Bowling Green and Arnold and Alice Jensen of Audubon, Iowa; his aunt, Dee Dee Covington; and his brothers, Kendell and Karl Jensen. A guiding principle for Mark was "pay it forward." He gave of himself generously and shared his life with all by giving comfort, love, support and recognizing the true beauty of everyone and everything. The most amazing and special part of Mark's demeanor was his humility and how unaware he was of his magnificent gifts of kindness and unconditional love. Mark was diagnosed with dyslexia in grade school, which proved to be a continuing challenge for him, but he took each day as an opportunity to conquer another obstacle. Mark enjoyed Cub Scouts and Boy Scouts. Working with troop leader Mike Beamis, he established a bike trail from Bristow Elementary School to Barren River State Park and became the youngest Eagle scout in Kentucky. He joined the U.S. Navy in 1978 after graduating from Warren East High School. He served as Quarter Master II (S.S.) on the submarine U.S.S. Mariano G. Vallejo and was honorably discharged in 1981. He graduated from University of Texas-Dallas with a degree in interdisciplinary studies. He won a poetry contest and was published in a National Poetry Anthology. While in Dallas he studied and honed his chef skills. He established kitchens in several new enterprises and finally opened his own restaurant, Mark's on Henderson, to favorable reviews and "Best Caesar Salad in Dallas" recognition. After being diagnosed with Type 1 diabetes, he started training in Tai Kwon Do and ran a marathon (26.2 miles). Mark belonged to State Street Baptist Church and was baptized by his friend and fishing buddy, the Rev. Freddie Brown. He was a Kentucky Colonel, member of American Legion and AARP. He loved Harley-Davidson motorcycles and was an avid reader and rock collector. He studied wines and cigars and played chess. He loved all creatures large and small but particularly his dogs, cat and chickens. Mark was a member of The Grand Lodge of Kentucky F & AM; Bowling Green Masonic Lodge No. 73; Bowling Green Commandery No. 23 of Knights Templar; Chapter No. 38 of the Grand Chapter of Kentucky RAM York Rites; Grand Council of Kentucky R&SM; Bowling Green council No. 74; and Rizpah Shriners. He is survived by his mother, Jeane Robertson; his sister, Karan Jensen of Bowling Green; his father, AI Jensen of Asheville, N.C.; aunt, Sondra Love of Savannah, Ga.; and godson, Lucas Upchurch of Bowling Green. In lieu of flowers, memorial gifts may be made to State Street Baptist Church, 340 State St., Bowling Green, KY 42101; Bowling Masonic Lodge No. 73 F&AM, 1601 Westen Ave., Bowling Green, KY 42104; or Hospice of Southern Kentucky, 5872 Scottsville Road, Bowling Green, KY 42104. Graveside services will be at 2 p.m. Friday at Fairview Cemetery. A masonic service will be at 5 p.m. Sunday at the lodge, 1601 Westen Ave. A celebration of Mark's life will follow after the service at the lodge.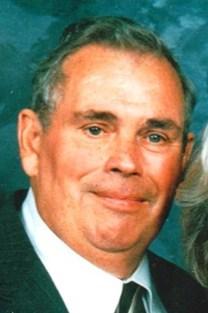 Frank Patrick Cassidy, 68, Virginia Beach, VA, passed away peacefully August 12, 2012. Frank was preceded by his parents Carl Cassidy and Timothy (Campbell) Cassidy. He is survived by his beloved wife Bernadine, sister Anne Cassidy, sons Thomas Cassidy, Douglas and Fred Deets, daughters Ruth Jones and Carol Laginess as well as eleven grandchildren. We will cherish his memory. Born in Takoma Park, MD he attended Bishop O'Connell High School where he enjoyed playing football. He served in the U.S. Navy, including a tour in Vietnam, retiring as a Senior Chief Petty Officer from Dam Neck Naval Base in Virginia Beach. Upon retirement he worked at the Norfolk Naval Shipyard. He was a member of St. John the Apostle Catholic Church and was an avid Washington Redskins fan. He enjoyed bowling, dancing, traveling and was devoted to his family and pets. A mass will be held at St. John the Apostle Catholic church on Monday, August 20th at 10am.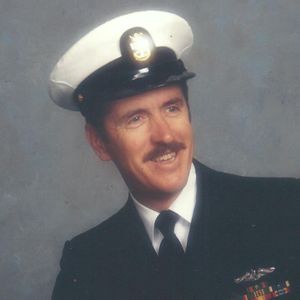 MCPO Wayne Ivan Skinner, USN (Ret.) GOOSE CREEK - Master Chief Petty Officer Wayne Ivan Skinner, USN (Ret.), 71, of Goose Creek, SC, husband of Terry Ann Boatwright Skinner, passed away Friday, December 6, 2013. His funeral service will be held Tuesday, December 10, 2013, in J. HENRY STUHR, INC., NORTHWOODS CHAPEL, 2180 Greenridge Road, at 3:00 pm. Interment will be private. The family will receive friends one hour prior to the service in Stuhr's Northwoods Chapel. Wayne was born on Thanksgiving Day, November 26, 1942 in Portsmouth, VA, only child of the late George A. Skinner and Coleen Chapman Skinner. Wayne joined the Navy in 1963. His Naval career spanned from 1963 until 1989, where he served these duty stations: Submarine schools - RTC in San Diego, CA and GMS in Dam Neck, VA, followed by Naval Bell Diving School in Key West, FL. He was then assigned to the following duty stations: USS Simon Bolivar, Instructor at Fleet Ballistic Submarine Training Center in Charleston, USS Francis Scott Key, Pomflant NWS in Goose Creek, USS Mariano G. Vallejo, and Submarine Tender Holland NWS in Goose Creek, until his retirement in April 1989. He spent 24 years of his 26 year enlistment home ported in Charleston. In June 1987, he became a U.S. Licensed Captain. In 1992, he became a U.S. Merchant Marine as a Licensed Boat Captain, which he continued until his death. He was a member of the U.S. Naval Fleet Reserve, U.S. Submarine Veterans, Inc. at Charleston Base and was a certified P.A.D.I. Open Water Diver. He is survived by his wife of Goose Creek; his son, John Howell Skinner (Rachel Morga) of Summerville; his daughter, Wendy LeAnne Crimmins of North Charleston; his grandson, Tyler John Skinner; his granddaughters, Parker Rae Crimmins and Jordan Nicole Crimmins; and his mother, Coleen Skinner of Deland, FL. Memorials may be made to the American Cancer Society , 5900 Core Road, Suite 504, North Charleston, SC 29406, Alzheimer's Association SC Chapter, 2090 Executive Hall Road, Suite 130, Charleston, SC 29407, Fleet Reserve Association of the Lowcountry, 99 Wisteria Road, Goose Creek, SC 29445 and/or United States Submarine Veterans, P.O. Box 3870, Silverdale, WA 98383. A memorial message may be sent to the family by visiting our website at www.jhenrystuhr.com. Visit our guestbook at www.legacy.com/obituaries/charleston Published in Charleston Post & Courier on Dec. 8, 2013

Lewie Maurice Bickford peacefully passed away on March 10 at 5:45 am. Lew's death came just after his anniversary of 43 years with wife Diana Joy Bickford, the LOVE of his life. Lew, the son of Jessie and Willie Ruth Bickford and younger brother of LaVelle Wilson, was born In Conroe, Texas on March 22, 1942. As a child, he lived throughout Texas, Oklahoma and Colorado. While living in Colorado, he fell in love with the beauty of the state. After moving again, he knew he was going to come back and stay in Colorado for a very long time. He graduated high school in Port-Neches-Groves and went to college at Nazarene in Oklahoma. During the Vietnam War, he decided to serve his country. He left school after a year and enlisted in the United States Navy In 1962. He went to Nuclear Power school, also became an electrician and served on Nuclear Submarines. He traveled around the world serving multiple tours on the USS WAHOO, PERMIT, TULLIBEE, andthe VALLEJO. While stationed in Hawaii, he met Diana Joy Plummer. After asking her out on a date, he fell in love and knew she was his soul mate. After two weeks of dating, on Valentine's Day, Feb 14, 1969, he asked her to marry him. On Dec 13, 1969, Lew and Diana were married in Houston, Texas. They have been happily married for 43 years. Lew became a very proud father in 1973 when Jacquelyn Michelle was born. He became a proud father of Michael Kelly, his only son, in 1974, and then again became a proud father of his youngest daughter Jamille Lynn in 1976. He was the most caring and dedicated husband and father anyone could ask for!!! He retired from active military and joined the Naval Reserves still wanting to serve his country but also spend more time with his family. He worked at Coors Brewery until he retired in 2006. He retired from the Navy in 1990 as Chief Petty Officer. Throughout his life time from childhood to his end, he always volunteered. If someone needed him, he stepped up to help. As an adult, he would help build, wire, clean homes, churches and buildings, etc. He was proudly a member of many organizations; a life time member of the Sub-Vets where as one of many projects you can visit, he constructed the torpedo monument at Sloan's Lake, CO; he was also on the volunteer rescue team. He was a volunteer EMT and volunteer firefighter. As a long time member of the VFW, he served and volunteered as a a member of the American Legion Post 11-11. He spent numerous hours giving his time at the Legion on various projects. Lew was elected to serve as Post 11-11's commander, a position he held for many years. Lew was recently honored for his service at the American Legion with a life time achievement award in 2011 with a presentation ceremony on Memorial Day 2012. Many of his family and friends were present to celebrate with Lew. If anybody asked, he would enthusiastically help! He modestly received multiple awards for his time, work and accomplishments. He was very proud to receive these awards, but very humble in deserving them which we all knew he more than deserved. During Lew's life time, he made friends in the military and civilian world. To this day, the Bickford family knows many of these friends as family. Lew is survived by wife Diana Joy Bickford, their children Jacquelyn Michelle Schaber and her husband Kevin, Michael Kelly Bickford and his 3 beautiful daughters Victoria, Hailey, and Carlie, and Jamille Lynn Bickford and her beautiful daughter Gabriella along with his sister LaVelle Wilson and her husband Laverne and their children, his favorite nephews--Brad, Steven, Brian, and favorite niece whom he fondly called Cindy Lew. Lew loved his cats, dogs, his bird and rabbits. He enjoyed playing and watching sports, playing games with friends and family, hunting, travelling, and other stuff such as crossword puzzles and sudoku. For Lewie Bickford, his love for his Family, Friends the USA came first.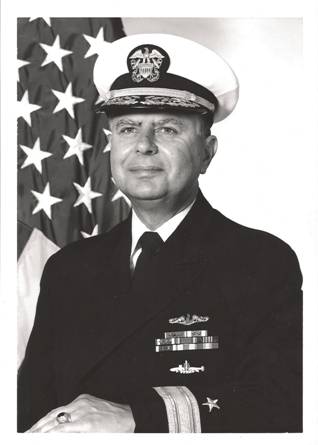 Rear Admiral Thomas Alfred Meinicke, United States Navy, quietly passed away on Thursday March 1, 2012 after a brief fight with Leukemia, surrounded by his loving family. Tom hailed from Rapid City, South Dakota and embarked upon a full career in the submarine service after graduating from the United States Naval Academy in 1960. During a career filled with an insatiable appetite for learning, he earned a Master of Science Degree in Operations Research from the Naval Post Graduate School in Monterey, CA and graduated from the John F. Kennedy School of Government, focusing in National and International Security.
His naval service was marked by calm, quiet leadership. Tom commanded the USS Flying Fish (SSN-673), the Nuclear Power Training Unit, Idaho Falls, Submarine Squadron Eight, and Commander, Submarine Groups Six and Ten at the Flag Rank. In addition to his afloat tours aboard the USS Sea Dragon (SSN-584), USS Sam Rayburn (SSBN-635), USS Mariano G. Vallejo (SSBN-685), and USS Nathan Hale (SSBN-623) (Gold Crew), he served as both the Force Nuclear Power Officer and Chief of Staff, Commander Submarine Forces U.S. Atlantic Fleet. Tom was the Director, Attack Submarine Division and SSN program Coordinator (OP-22) and the Director, Strategic and Theater Nuclear Warfare Division (OP-65). His personal decorations include the Legion of Merit with four gold stars, the Meritorious Service Medal, with two gold stars, and the Navy Commendation Medal with three gold stars.
After his 32 years of Naval Service, Tom embarked on a successful second career in the civilian sector. He served as the Manager, Planning and Assessment Department for the South Texas Nuclear Project, as the Deputy Plant Manager for the South Texas Nuclear Project, as Vice President of Operations for Sithe Independence Power Partners, LP in Oswego, NY and as Vice President of Operations for Sithe New England in Boston, MA. Tom retired to Virginia Beach, VA.
Tom is survived by his wife of 52 years, Alice diZerega Meinicke, his three daughters Almiede Arnell (Louis) of San Diego, CA, Elizabeth Flynn (John) of Moraga, CA, and Andrea Diamond (Jeff) of Virginia Beach, VA, his 95 year old father, Merton Lee Meinicke of Seaside, OR, brother, Jerry Meinicke, and sisters, Shirley Cutler, and Mary Lee Meinicke. He loved dearly his nine grandchildren Luke, Sarah, Michael, Tommy, Haley, Anna, Charlie, Chad and Dana.
Tom, a gifted artist, was not only a life-long voracious reader, but also an avid fly fisherman and a passionate master wood-worker. A Memorial Service will be held at St. Aidan's Episcopal Church in Virginia Beach, VA on March 31, at 11:00 AM. He will be interred in the Columbarium at the United States Naval Academy on April 2, 2012. In lieu of flowers, his family asks that you consider sending a donation in Tom's name to the Dolphin Scholarship Foundation at 4966 Euclid Road, Suite 109; Virginia Beach, VA 23462 or the Virginia Beach Public Library at their web site: www.vbgov.com/libraries

It is most sad to report that Hospital Corpsman striker/SS, Harold Dwayne Hibbs passed away on May 10, 1998. He served on the blue crew under CMDR. England as C.O. and under HM1/SS Richard L. English as Dept. head. HN/SS Hibbs is buried in Temple, Texas. Rest in peace buddy. You were a good man. SN/SS Robert Walters.

"I've just had such a good life, I'm in no hurry to leave it." That's how Doug Gifford, 59, saw things shortly before his fight with cancer ended on September 22, 2011.
Born on September 13, 1952 in Clarksburg, West Virginia the only son of Gene and Marge Gifford, Doug was both silly and smart, long and lean and full of mischief. He grew up in a house full of love, laughs, chores, big dogs and two sisters, Gail and Carol.
From coal-filled hills to big city life in Milwaukee, Wisconsin and Nashville, Tennessee, Doug considered Oregon his home. He graduated from Lake Oswego high school in 1970 and attended Oregon State University before joining the US Navy as a nuclear submariner during the Viet Nam War. He served on the USS Vallejo as an Electrician's Mate, receiving meritorious awards and service medals. Doug received a commendation for saving the life of a shipmate. He'd simply do anything for anybody.
He made his career in electrical engineering and spent free time hunting, fishing, building and riding motorcycles and spending time with family and friends.
He married Kristeen Teague in 2000. Together, they built a full life of adventure, traveling, diving, camping and learning to fly. They enjoyed a busy life in Banks, with her children Edan and Kyrissa. The family raised goats, chickens, cats and even more dogs.
Diagnosed with Prostate Cancer at age 48, Doug was cancer-free after surgery for several years. He and Kris moved to the Florida Keys in 2007 where they enjoyed a laid back life living on a sailboat, fishing for dinner and entertaining. Doug was a great storyteller.
With PSA numbers rising, (if you don't know what a PSA number is, the family urges you to find out) Doug took treatment in stride and made the most out of life.
The couple returned to Oregon last spring. Doug faced advancing cancers with heart and courage. He fought hard, accepted limitations positively and showed his love easily. He'd be with us now if he could live on spirit and will alone.
In lieu of flowers the family would like you to contact your local cancer society about providing a PSA test, mammogram or other pre-screening method to someone who cannot afford it in your community, or donate to Serenity Hospice of Oregon.
The family thanks all that supported them through the past four years of treatment, sharing hope, worry and now, sadness. Doug's life was large. Too short for his size, too quick for those left behind.
Wife, Kristeen, Hillsboro, OR
Sister Gail, Tualatin, OR
Sister Carol & Chris Coplen, Tigard, OR
Sister-in-law Suzzanne and Kevin Marvel, Hillsboro, OR
Brother-in-law Michael Sokoloff
Stepson Edan Koch, Hillsboro, OR
Stepdaughter Kyrissa Koch and Tyson Gieszler, Hillsboro, OR
Nephew Kevin Moench, Seattle, WA
Nephew Dan and Megan Moench, Salt Lake City, UT
Nephew Jameson Marvel, Hillsboro, OR
Nephew Charles & DeeAnn Smith, Molalla, OR
Niece Samantha & Tony Thayer-Osborne, Hillsboro, OR
Niece Kayla Coplen, Bend, OR
Niece Mackenzie Coplen, Eugene, OR
Preceded in death, parents Gene & Marge Gifford, Portland, OR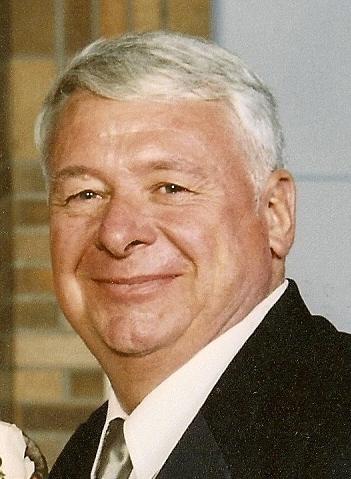 Lyle D. Conklin, 63, of Ogden, Iowa, passed away on Monday, June 27, 2011, at Mercy Medical Center in Des Moines.
Mass of Christian Burial will be held 10:30 a.m., Friday, July 1, 2011, at St. John's Catholic Church in Ogden. Father Jim Bruch will officiate. Burial will be at St. John's Catholic Cemetery in Ogden with Military Graveside Rites conducted by the Boone Veteran's Council. Visitation will be Thursday, from 5:00 to 8:00 p.m., with a scripture service at 7:00 p.m., at St. John's Catholic Church. Carson – Stapp Funeral Home in Ogden is in charge of the arrangements.
Lyle Dewey Conklin was born on February 9, 1948, in Boone, Iowa, the son of Charles and Velda (VanMeter) Conklin. He was a graduate of the Ogden High School.
Lyle served his country in the United States Navy during Vietnam and following his honorable discharge attended trade school in Omaha, Nebraska. On May 26, 1973, Lyle was united in marriage to Linda Lee Launderville at St. John's Catholic Church in Ogden. To this union four children were born: Tony, Brandi, Miya, and Ronnie. Lyle was a lifelong resident of Ogden where he worked for Ogden Municipal Utilities for several years. He later became employed by Peoples Natural Gas, then Black Hills Energy where he retired in November of 2009, as a safety representative.
Lyle was a member of St. John's Catholic Church in Ogden and the Knights of Columbus. He was actively involved in the City of Ogden where he had served on the Rural Main Street and Lincoln Highway Committees, and also served on the Ogden City Council. He was also a member of the submarine group Placoderm.
Survivors include his wife, Linda Conklin of Ogden, Iowa; four children, Tony (Kim) Conklin of Urbandale, Iowa, Brandi (Jason) Prindle of Johnston, Iowa, Miya (Sean) Clubine of Boone, Iowa, and Ronnie Conklin of Ogden, Iowa; five grandchildren, Caitlin Conklin, Donovan Dewey Prindle, Autumnlee Prindle, Alexandria Clubine, and Hailey Clubine; a sister, Beverly (Bernard) Williams of Perry, Iowa; and many nieces and nephews. He was preceded in death by his parents; two sisters, Doris Houghman-Stevens and Delores Johnson; and two brothers, Ronald Conklin and Richard Conklin.
Memorials may be left to the discretion of the family.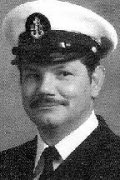 NEW OXFORD John D. "JD" Baadte, 68, died Sunday, March 20, 2011, at his residence. He was the husband of Carolyn J. (Yohe) Baadte, his wife of 47 years. He was born February 20, 1943, in Washington, D.C. JD retired in 1981 after 20 years of service with the U.S. Navy as a chief torpedo man in the submarine service. He was a life member of the New Oxford Social & Athletic Club, and the East Berlin V.F.W., and a member of the Eagles in Gettysburg, and the American Legion in Orbisonia. He was an avid drag racing fan and golfer. In addition to his wife Carolyn, JD is survived by a son, John D. Shorb, Sr. and his companion Susan McMaster of Hanover; two daughters, Michele L. Nell and her husband Lloyd of Thomasville and Rene A. Baadte of New Oxford; and four grandchildren, Dustin J. Shorb and his wife Myla of Citrus Springs, Fla., John D. Shorb, Jr. of McSherrystown, Dylan J. Baadte of New Oxford, and Sarah E. Shorb of Waynesboro. Following cremation, a memorial service will be held on Friday, March 25, 2011, at 7 p.m. at the Feiser Funeral Home, Inc., 302 Lincolnway West, New Oxford. The family will receive friends at the funeral home on Friday from 5 p.m. until the time of service. Burial will be private and at the convenience of the family. Memorial contributions may be made to Aseracare Hospice, 44 Bowman Road, York, PA 17408, or to the Disabled American Veterans, P.O. Box 14301, Cincinnati, OH 45250. Memories may be shared at www.feiserfuneralhome.com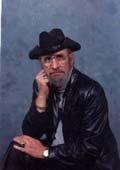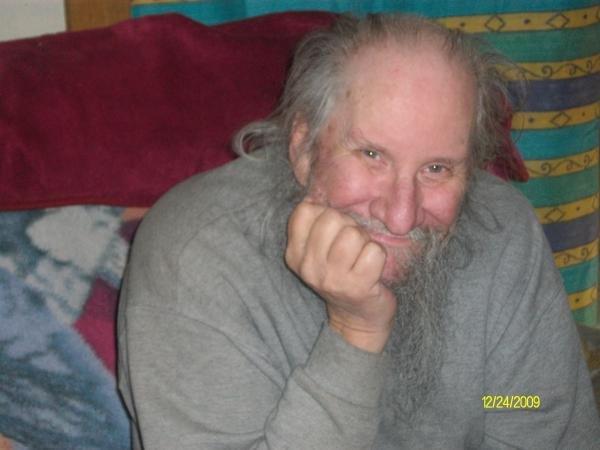 David Welles Fletcher
Born 10-16-44 and passed on to join the eternal patrol on 12-09-10 at 05:15 (Arizona) MST.
HIDDEN VALLEY - David Fletcher, 66, of Hidden Valley died on Dec. 9, 2010, of complications from lung disease.
A memoral service will be held later. Memorial contributions may be made to American Heart Association. Thank you, Jonathan Bell (Stepson)
Contributed by Jonathan Bell
(Step-Son of D.W. Fletcher)


John William Bucklew
Birth: Sep. 29, 1960
Death: Sep. 9, 2010
John "Johnny" William Bucklew went home to be with the Lord on Thursday, September 9, 2010. John was born September 29, 1960, in Denton, Texas to J.W. Bucklew and Mary Kathryn Bucklew. Raised in Sanger, Texas he and his family were prominent members of the community. John was married to Deborah Sue Kesseler Bucklew on February 22, 1986, in Sanger Texas.
His profession has ranged from being a Torpedoman's Mate, second class, to being a Plano firefighter and paramedic, to being the General Contractor and Director of Facilities at New Life Church in Sanger, Texas.
John's life was one of continued service to others. His greatest joy was to minister to others in any way that he could. His life was exemplified by 1 Peter 4:10: "As each has received a gift, use it to serve one another, as good stewards of God's varied grace."
John served as a Sanger volunteer firefighter. He was a religious lay speaker and served with Kairos Prison Ministries, Epiphany Ministries, Walk to Emmaus, New Life Church, and was a volunteer Chaplin for Kairos Prison Ministries.
He is survived by his wife Deborah; his daughters Amber Marie Bucklew, Jinny Kathryn Bucklew, and Bethany May Bucklew; his mother Mary Kathryn Bucklew; his brother Jerry Bucklew, his beloved dog Wicket and numerous friends and family members. He is preceded by his father, J.W. Bucklew; his aunt Reba Bucklew, and his uncles Clyde and Lloyd Bucklew.

Carlton Leroy Ayres, age 72 of Terrell, TX, and formerly of Rowlett and Garland, passed away September 1, 2010. He was born July 13, 1938 in Camden, NJ, to Carlton Lore & Doris (Beiber) Ayres. Carlton proudly served his country in the United States Navy during Vietnam. He had worked as a computer specialist and was of the Presbyterian denomination.

Carl is survived by his sons: Karl Ayres & wife Diesha of Clearlake, CA, Issac Ayres & wife Jamie of Fate, TX, Robert Ayres & wife Valerie of Royse City, TX, and Ronald Ayres of Lewisville, TX; brother: Wayne Ayres & Patti of Cherry Hill, NJ; granddaughters: Lyla and Leah Ayres; and step-great granddaughter: Amira Tillson. He was preceded in death by his parents; and wife Barbara Ann on June 26, 2010.

A memorial service will be held 2:00pm, Friday, September 10, 2010 at Rest Haven Funeral Home – Rockwall Chapel.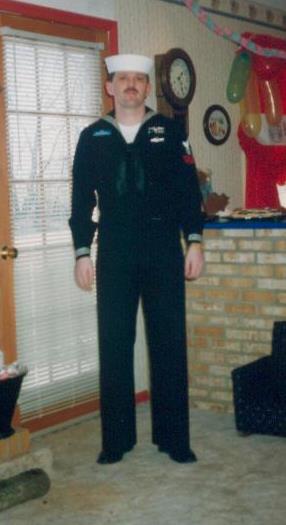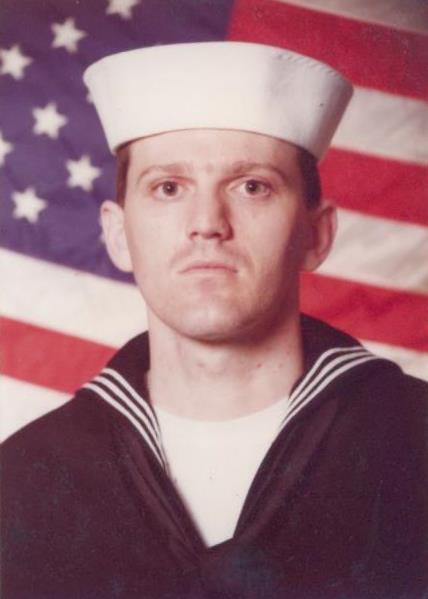 Shipmate Jimmy Hitt and his commendation from Big Al Konetzni. We lost Jimmy to a scuba diving accident in 1999.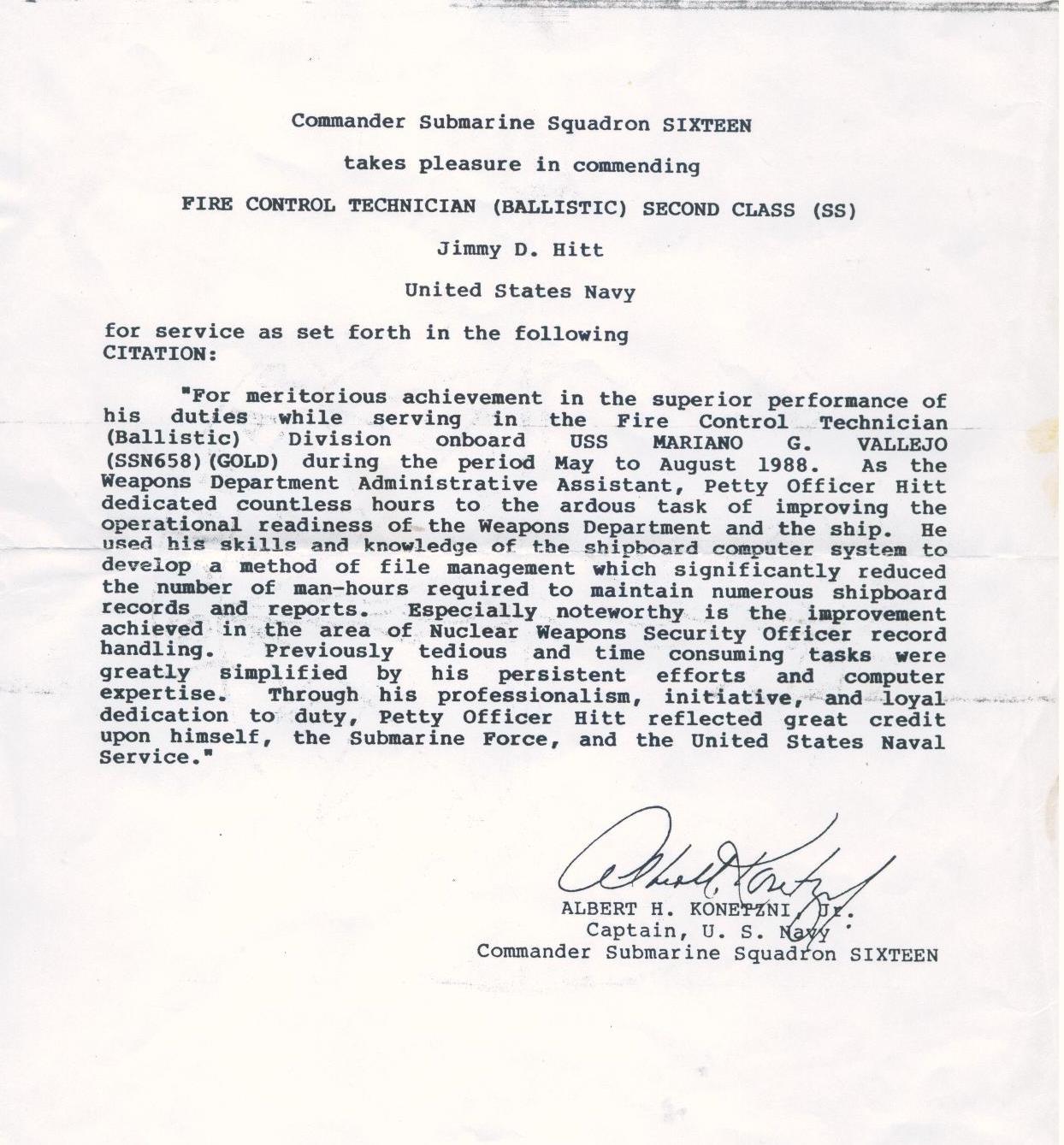 Here is an article and his obit.
From: The Decatur Daily, Monday September 27, 1999
Decatur Diver Killed in Swimming Accident
A scuba diver from Decatur died Sunday after breaking his neck at a rock quarry near Madison. According to family members, Jimmy Dwain Hitt, 36, jumped in the water to test the temperature and somehow hit his head on a submerged platform. He was not wearing underwater diving equipment when he jumped in. The impact broke his neck, and he never regained consciousness, relatives said. He died at Huntsville Hospital. "It's just one of those freak accidents that we'll always wonder about," said his sister, Diann Hammon of Priceville. Hitt was a U.S. Navy veteran and served aboard the submarine, USS Vallejo. He had always wanted to be a scuba diver, said his wife, Jennifer Hitt, and he became certified during the summer. Hitt was the former owner of Hitt Furniture Co. in Decatur and owned and managed a computer business in Nashville. Roselawn Funeral Home is handling local arrangements.
Obituary from the Decatur Daily.
Jimmy Dwain Hitt
09/26/1999
Funeral for Jimmy Dwain Hitt, 36, of Decatur was Wednesday September 29, at 2:00 p.m. at Roselawn Funeral Home with the Rev. Buddy Champion officiating. Burial was in Roselawn Cemetary. Mr. Hitt died Sunday, September 26, 1999, at Huntsville Hospital from injuries he sustained in a diving accident. He was a native of Morgan County and a veteran of the U.S. Navy who served aboard the submarine USS Vallejo. He also was the owner of A+ Computers in Nashville and the former owner of Hitt Furniture in Decatur. He is survived by his wife, Jennifer hitt of Sarasota, Fla.; two sons, William Justin Hitt and Jacob E. Hitt, both of Sarasota; his mother and stepfather, Ann and Stephen Reed of Lewisburg, Tenn.; four brothers, Harvey Lee Hitt of Hartselle, Jeffrey Ken Hitt of Nashville, Jackie Lee Hitt of Priceville and Anthony Scott Hitt of Murphreesboro, Tenn.; two sisters, Diann Hammon of Priceville and Melinda K. Hitt of Nashville; one stepbrother, Jeffrey Stephen Reed of Philadelphia; and two stepsisters, Vickie Marlena Reed of Red Lyon, Pa., and Lorie Seamons of Decatur. Pallbearers were Larry Allen, Jimmy Doil Hitt, Jackie Dwain Cole, Gene Beasley, Marty Robertson and Barney Burns.
The above donated by Emily Hammond Manderson

Joe Eason was my friend and shipmate. His home was Bristol, GA about 5 miles outside of Waycross. My wife Linda and I spent much time with him and his family. Joe loved the outdoors and although he was the toughest man I've ever known both then and throughout my career as a California Highway Patrolman, he was also the kindest man on the planet. If Joe knew you were his friend he was fiercely loyal, if not he had little time for you. That bare foot bunkin that would never leave you on the battle field is my fondest memory of the 658 boomer. Very few of his shipmates know how Joe died so I will tell you his final story. The year was 1976 and after Joe left the service he became a truck driver, he didn't have a car just a big rig and he had a hot date so Linda and I told him to take our car. He hugged our necks and said he would see us Friday. That was the last time I saw my friend. A week had passed when I received a phone call from shipmate Jay Stradley, he said that he heard Joe was killed in a traffic accident and I confirmed that with his father Abe. Abe told me that Joe his brother Lee, Joe's Aunt and cousin were in the car together. Joe and Lee had been in a fight in Ludowici, GA and both had been shot and Joe's Aunt was driving as she rushed them to the hospital when she crossed the center line hitting a big rig head on killing all. I have seen much death in my career and my demons are many but I miss my friend. I miss him every day.
Submitted by Bill Rough 12/27/09


Gettler, Charles R. age 65 of Bloomington. Retired from the U.S. Navy as a Master Chief after 22 years and continued his Federal Service at the V. A. for another 20 years. Preceded in death by parents Maynard and Melva Gettler and nephew Elliot Dircz. Survived by wife, Betty; children John, Christopher (Kate); sisters Linda Kahn, Judy Intlekofer; brother John (Nancy) Gettler; in laws Mary Lou (Tom) Sodergren, Peggy (Daryl) Rogers, and many loving nieces and nephews. Mass of Christian Burial Friday 11:00 AM at Holy Family Catholic Church, 5900 W. Lake St., St. Louis Park. Burial at Dawn Valley Memorial Park in Bloomington. Visitation Thursday 5-8 PM at Morris Nilsen Chapel, 6527 Portland Ave. in Richfield and one hour before Mass at Church. Memorials preferred. Morris Nilsen Chapel 612-869-3226 www.morrisnilsen.com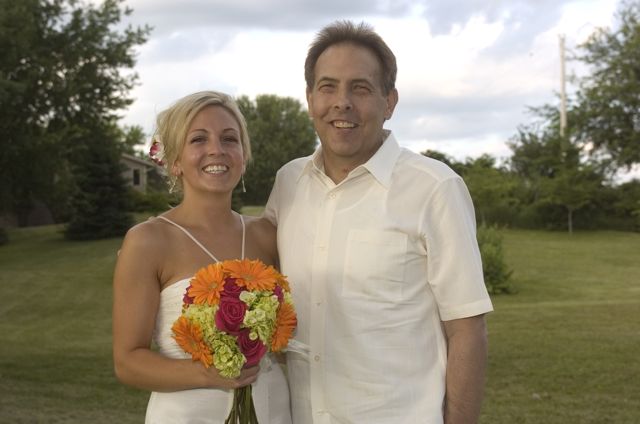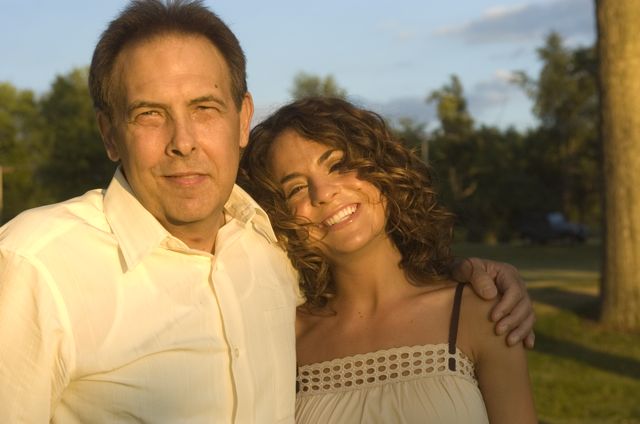 Mark Gunderson with his daughters Sarah and Megan.
Gunderson, Mark J. STOUGHTON - Mark John Gunderson, age 49, of Stoughton, went home to his Savior, Jesus Christ, on Thursday, August 23, 2007. He was born in Stoughton on December 12, 1957, a son of Claude and Mary (Bovre) Gunderson. He graduated from Stoughton High School in 1976 and served his country in the Navy for eight years. Mark worked for twenty two years at the St. Mary's Hospital Power Plant. He is survived by his four daughters, Megan (Jeremy) Michel, Sarah (Louis) Athnos, Rachel Gunderson (Erich Schenkenberg), and Amanda Gunderson; his grandchildren, Jordan and Sam Michel, Mikaela and Chloe Athnos, Ethan Peterson, and Blake and Kailey Schenkenberg; his father, Claude (Brenda) Gunderson; his brother, Eric Gunderson; and nephew, Kolby Gunderson. He was preceded in death by his mother, Mary (Bovre) Gunderson. Funeral services will be held on Sunday, August 26, 2007, at 4 p.m. at LAKE VIEW CHURCH, 2200 Lincoln Ave., Stoughton. A private burial will take place on Monday at East Koshkonong Cemetery in Cambridge. The family will greet friends at church on Sunday from 2 p.m. until the time of service. Mark was a loving father, son, brother, and the greatest Grandpa "Pa" in the whole world. He will be greatly missed. In lieu of flowers, those planning an expression of sympathy may wish to consider memorials in Mark's name to the Stoughton High School Athletic Department, or to the American Cancer Society. Olson-Holzhuter-Cress 206 W. Prospect Ave Stoughton (608) 873-9244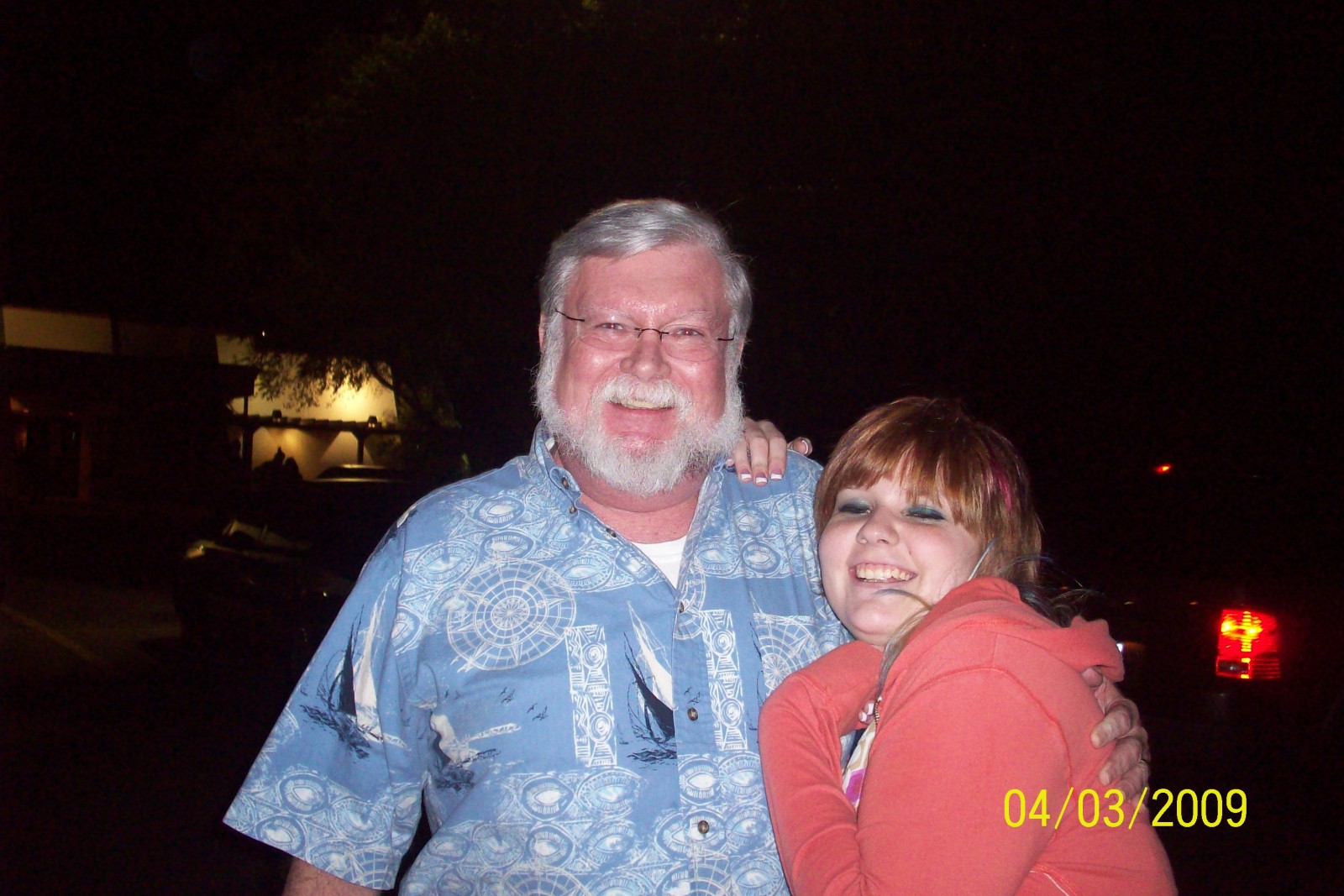 George Wion and granddaughter Brittnie Wright. This picture was taken on 4/3/09 and he died on 5/22/09.
FORT WORTH, TX: Former Bucyrus resident George W. Wion, 61, of 3400 Pebble Beach Way #2040, Fort Worth, Texas, died early Friday morning, May 22, 2009 at North Hills Hospital, North Richland Hills, Texas, of a prolonged illness and complications.
He was born March 25, 1948 in Bucyrus, Ohio and was the son of the late John A. and Lois (Gorham) Wion of Brokensword, and later Bucyrus. He was also preceded in death by a brother, Harry Wion.
He is survived by his wife, Rachel (Johnson) Wion. They married on October 4, 1975, at Brokensword United Methodist Church. In addition to his wife of 33 years, George is survived by his children and their families, Traci and Charles Spicer of Fairfield, Ohio, and daughter, Brittnie; Johnathon Wion and April Osborn of Haltom City, Texas, and children, Gillian, Trey, and Violet; Nicholas and Laurie Wion of Cleveland, Ohio, and children, Alexandra and Jack. He is also survived by his sister, Florence, and brother-in-law, Dwight Harer of Lykens, Ohio; and their family; Jayson and Tammy Harer of Lykens, Ohio, and sons, Zachary and Andrew; Stacey, and Chad Frias, and daughter, Gabriella of Hilliard, Ohio. He was the son-in-law of Wallace and Verna Johnson of Bucyrus; and brother-in-law to Pauline (Johnson) and Cecil Dennis, and sons, Gregory, Wayne, Mark, and Gregg.
A 1966 graduate of Wynford High School, he attended one and one-half years of business college in Cleveland, after which he entered the U.S. Navy and served as a missile technician onboard the nuclear submarine U.S.S. Mariano G. Vallejo during the Vietnam War.
Calling hours will be Wednesday from 2 to 4 and from 6 to 8 at Wise Funeral Service, 129 W. Warren St., Bucyrus, Ohio 44820 where services will be held Thursday, May 28, 2009 at 12 Noon with Deacon Bill Horning officiating. Burial with military honors provided by the American Legion Post #181 of Bucyrus will be at Brokensword Cemetery.
Donations to charity may be sent to the funeral home and will go to the Autism Foundation for research, which was very dear to his heart.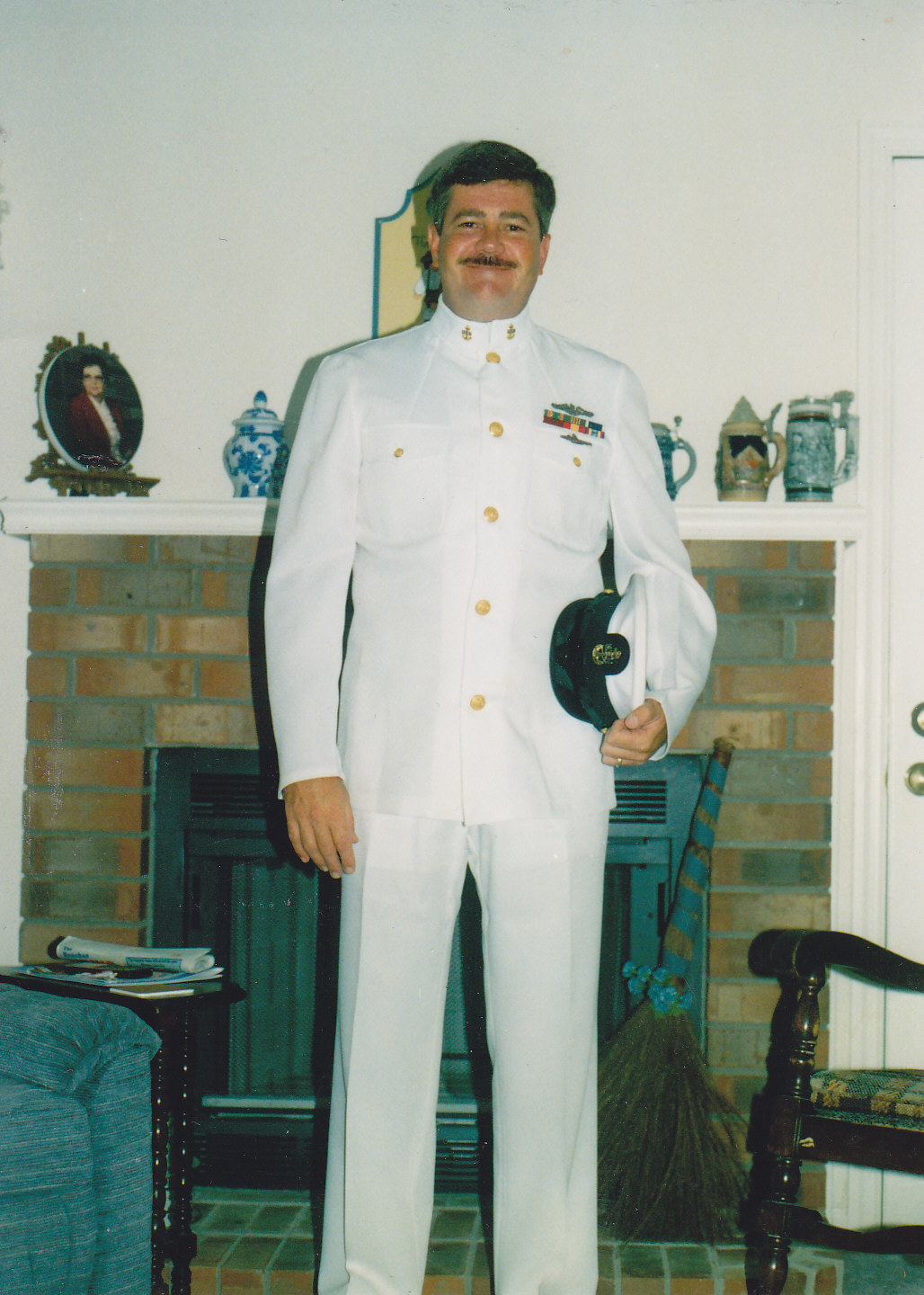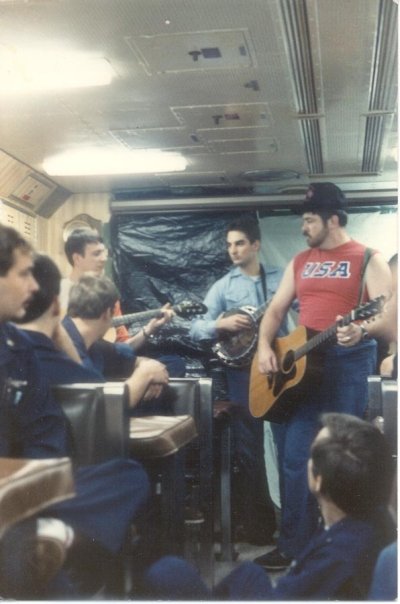 Stephen Bruce Hamblin
Aug 23, 2008 - 08:07:08 CDT
DESLOGE — On August 19, 2008, Stephen Bruce Hamblin, with the grace of God, was freed from the binds of a rare neurological disorder, Progressive Supranuclear Palsy. Bruce, as he was called by his family and friends, attended school and graduated from North County. Chief Petty Officer Hamblin gave 21 years of his life to our country, serving in the United States Navy Submarine Service, retiring in 1995. He was preceded in death by his father, Burl Hamblin and mother, Alice Hamblin. He leaves behind his wife Mary Verta J. Hamblin of Bonne Terre; son, Joshua Hamblin of St. Louis; son, USAF Staff Sargent Mark Hamblin; step-daughters, Jennifer McDavid and family of Park Hills, Melissa Evers and family of Burnesmill; five step-grandchildren, Cotie, Brett, Maddie, Hailey and Albert; sisters, Margaret Danley and family of Caulfield and Madeline Skaggs and family of Desloge. Many nieces, nephews, aunts, uncles, cousins and friends as well. We are very grateful for the home visits from those special family members and friends who took the time to come by and spend time, especially during our last weeks together. Bruce was very loved and will be missed dearly. In lieu of flowers we are asking that donations be made to Cure PSP Organization. The information can be found during visitation or at Cure PSP.org Only through research can Progressive Supranuclear Palsy be stopped from taking our loved ones. Visitation will be Saturday, August 23, 2008, at 5 p.m., at C.Z. Boyer & Son Funeral Home in Desloge. Services will be Sunday, August 24, 2008, at 2 p.m., at C.Z. Boyer & Son Chapel with Rev. Robert Eggers, Steve Eldridge, Roy Bearden and Rev. Tisha Mundy officiating. Burial will be at Jefferson Barracks National Cemetery in St. Louis, Monday, August 25, 2008, at 10 a.m.
Submitted by Beverly Henson Hamlin

Robert Minton passed away at 1330 CDT today, 3/29/09 in Perkins, OK after a long battle with lung cancer.
Bob is survived by his wife Pam, his son Danny, his daughter Heather, and daughter-in-law Stormy as well as several grandchildren.
Bob was a Vallejo plank owner.
Submitted by
Ben Greenwood 1969-1974

Mr. Terry Lee Rogers, 39, of 200 Line St., Calhoun, GA passed away Wednesday morning, Feb. 4, 2009 at the residence. He was born in Floyd County on July 24, 1969, son of the Rev. Carlton Howard Rogers and Mary Ruth Towe Rogers. He was a member of Union Grove Baptist Church of Calhoun and had served in the Navy for six years onboard the USS SSBN Mariano G. Vallejo, where he was a nuclear weapons technician. He also had his bachelor's degree in Computer Science, Sociology, and Psychology. Survivors include his daughter, Laura Rogers of Rome; a son, David Rogers of Rome; parents, the Rev. Carlton and Ruth Rogers of Adairsville; three brothers, Randy Rogers of Calhoun, Donnie Rogers of Atlanta, and Scotty Rogers of Adairsville; a sister, Staci Jene Rogers of Adairsville; a special friend, Rhonda Smathers of Calhoun; several nieces and nephews. Funeral was Saturday, Feb. 7, at 2:30 p.m. at the chapel of Barton Funeral Home, with the Rev. Larry Towe officiating. Interment followed in Dry Creek Baptist Church Cemetery in Adairsville. Pallbearers were Scotty Barton, Jessie Rogers, Wesley Jamison, David Dotson, Andrew Rogers, and Bryan King. R. Dudley Barton & Son Funeral Home of Adairsville was in charge of arrangements.

Another good Vallejo shipmate has sailed. This past November Jim O'Connell passed away after a two year struggle with Lou Gehrig's. Jim was a member of the blue crew during the 1970-1972 time frame serving the Weapons department as a TM3(SS). Jim was a wonderful person and served his country well. Submitted by Tom Voss 1/22/09

Shipmate Gerard Drolet has laid his oars to rest. His obituary follows.
Gerard Drolet passed away at Melech Hospice House at the age of 49 on Tuesday, Oct. 23, 2007. He was born July 24, 1958, in Woonsocket, RI. He was in the Navy for 6 years and was on the USS MG Vallejo submarine. He also worked at MacDill Airforce Base, Z-tel, and Switch and Data. Gerard was a member of St. Luke's and also attended Nativity Church near Longwood, where he was living. He is survived by his mother, Raffaela; fiance, Martha; stepson, Anthony; and stepdaughter, Jeanette. Visitation will be Thursday, Oct. 25, 6-8 pm, at Dobies Funeral Home, 701 E. Tarpon Ave. Funeral Mass will be Friday, Oct. 26, at St. Ignatius of Antioch Catholic Church. Dobies Funeral Home-Tarpon.

Shipmate Mike Fallatt has laid his oars to rest. Mike was one of the most colorful indviduals I have ever met. My family and I met Mike and Terry at the first 658 All Hands Reunion in Vallejo the summer of 1999. He left such an impression on my kids that they still talk about him today. My daughter still refers to him as "that funny Old Salt", because he told her he was just an old salt from her Dad's sub. Mike was able to attend all 3 of the reunions and he will be terribly missed at future gatherings. My heart goes out to his lovely wife Terry and all of his family members. Stand down Mike, time for you to enjoy the peace that you fought to keep. Jim Carter

Shipmate Kevin Dixon has laid his oars to rest. His obituary follows.
Kevin Ray Dixon, 56, of Summerville, SC, husband of Susan (Sue) Marie Baier Dixon, died Friday, April 27, 2007, at a Charleston hospital. Funeral services will be held Tuesday morning, May 1, 2007, at Bethany United Methodist Church at 11 o'clock. Burial will be private. Friends may call at Parks Funeral Home, Monday evening, April 30, 2007, from 6 to 9 o'clock. Memorials may be made to Bethany United Methodist Church, Global Mission Fund, 118 West 3rd South Street, Summerville, SC 29483 or to The Gideons International, Memorial Bible Fund, P.O. Box 943, Summerville, SC 29484-0943. Mr. Dixon was born August 28, 1950, in Beckley, WV, a son of the late Ray Shelby Dixon and the late Lila Marie Mease Dixon. He served in the US Navy for over 10 years and was a local building contractor for over 20 years. He was currently the owner of Rain Tight Roofing. He was an active member of Bethany United Methodist Church. A member of the Global Mission Team, Head Usher, current member of New Journey Sunday School Class and a former member of the Family Circle Sunday School Class. He was a certified church speaker and active in the jail ministry. He was also a member of The Gideons International-Summerville Camp and was Camp President. Survivors include his wife, Susan (Sue) Dixon of Summerville, SC; one son, Kevin Dan Dixon of Summerville, SC; one daughter, Laura M. Dixon of Summerville, SC; three brothers, Mark Dixon of Summerville, SC, Larry Dixon and his wife, Rose of Wheatland, MO and Michael Dixon and his wife, Jane of Kenova, WV; two sisters, Gwynetta Meade and her husband, Brad and Robyn Casteele all of Kenova, WV, and 15 nieces and nephews. Arrangements by PARKS FUNERAL HOME, INC., 130 West 1st North Street, Summerville, SC 29483. Visit our guestbook at www.charleston.net/deaths.

Mike Arrowood joined the Vallejo Gold Crew after commissioning, and was with us at the first missile launch at the Cape. Mike was a Navigation ET. He got appendicitis shortly after the Panama Canal transit and was airlifted off the boat, causing cancelation of the equator crossing Captain Jack had planned. He was held capitive by the Naval Hospital in Panama so they could prove the need for their facility. After six weeks of fixing TVs in the hospital he was released back to the boat during PSA. We all remember Mike's love of flying, he took several of us around Florida from Patrick AFB Aero Club, and later became a commercial pilot during off crew in Hawaii. He flew tourist flights around the volcano during eruptions. One patrol he and Capt. Jack got some DC-8 pilot time between Guam and Wake after talking to the United flight crew at Anderson AFB and showing them their pilot's licenses. Mike left the Navy in 1969 and returned to Oregon where he continued flying. He lost his life doing what he loved, in a flying accident in 1989. Mike was a good shipmate and friend. He is missed.Ed Bills, Charleston, SC - Wednesday, January 02, 2002 at 20:32:30 (EST)


In 2001 we lost two shipmates who were Plank Owners. TMC(SS)Glenn Norton who was the second Gold Crew COB. We met during new construction and remained close for the next 36 years. I miss him very much. TMCS(SS) Billy Avila also left us. We also met during new construction. After retirement Billy and I went to work for Westinghouse spending the next twenty five years there. He also is missed very much.
Gerry McDonald, Silverdale, WA - Monday, December 31, 2001 at 11:08:16 (EST)


On 8 March 2005 we lost shipmate, MM 1 (SS) Timothy E. Schleiger, to a long fight with cancer. Tim was a plank owner in the USS Mariano G. Vallejo Gold Crew and made all her patrols in the Pacific and one in the Atlantic. Tim was my leading first class in the Machinery Division and truly my right arm. The first day I took over the division, Tim told me to get out of his engine room and the reason the chief's quarters was between the engine room and the ward room was so that I would keep the lieutenant out of his hair. I know that I, his shipmates, and his dear wife Dodie miss Tim.


I have no details but we have also lost MM 3 (SS) James Crow who was on Vallejo Blue about 1974 to 1976. He came aboard a seaman and worked his way into "A" Gang. He was one of the most liked young men on the boat and a fine sailor.
Roger K. Shoemaker

My first remembrance of James Crowe was being reminded that he was, due to a resent directive, to be addressed as Seaman Crowe. He was very proud that he was to be addressed in such a formal manner by Officers and Senior Petty Officers.

The following is true to the best of my memory. Fireman Crowe wanted to be in the "A" Gang in the worst way. He was tired of standing planes watches and wanted to stand an important watch such as the Fwd. Auxiliary Man of the Watch and have a path for advancement. "A" Gang was not in any real need of more people but he was willing to do any thing that it may take to become an "A" Ganger. That is when the perfect opportunity presented itself. Seams there was an object, of some sort, stuck in the overboard backup valve, located in the number two sanitary tank. Some one had to go into the "shit" tank and remove what ever was preventing the overboard back up valve from closing. Guess who would do the dirty deed if they would only let him into "A" Div. A time was chosen, when the boat would be able to go to periscope depth to facilitate the tank entry and repair. Fireman Crowe was in the AMR1 getting ready to go into the sanitary tank, when I the EWS become aware of what was taking place. First he had to strip down to his skive shorts, and apply the special antibiotic cream the Corpsman supplied. Then he was wrapped in plastic sheeting, from his head to his ankles, with plastic radiation booties for his feet and rubber gloves for his hands. The last item of his sanitary tank entry suite was an air breathing mask with the hose covered in plastic. There he was in all his glory, suited up and ready to do his bit for "A" Div. The phone in AMR1 rings and every one in the space is informed that due to a contact with a Russian ship we had to go deep and would stay there for some time, the sanitary tank repair had to be postponed. Every one was disappointed but none as mush Seaman Crowe, all ready suited up and rearing to do his duty for ship and country. "The boat does not have to be shallow for me to do the repair, I would be more than willing to go in and do it with the boat at depth". Every one sympatric with him, but there is nothing they can do. Just maybe if he talked with the Officer of the Deck in person and pleaded his case, they would let him dive the sanitary tank. Off he goes to the control room, greased up, suited up, dragging his plastic covered hose to present his case. The proper phone calls are made. Chief Cauthen (Tiney) had the Dive and is waiting for Seaman Crowe. It's hard for every one in the control room to keep a straight face as Seaman Crowe in his "Shit Tank Suit" begs the OOD to let him go frolic in the sanitary tank, amongst the filth and scum. To on avail he is rejected on all accounts. The safety of the boat has to come first. There he stands dejected and beaten. His chance to be part of something important and to advance in, this his beloved, United States Navy has slipped through his greasy hands. With head down, he starts for the AMR1, when Chief Tiny calls him back, with. "Welcome to the "A" Gang Fireman Crowe".

That is how Fireman Crowe made it into the "A" division. As I remember he was one of the most reliable, sharp, and clean cut young sailors that I had the pleasure to serve with. I remember that he always has a positive out look on life and the Navy. I know that I liked to talk with him though I did not often have the opportunity. Roger K. Shoemaker MMCM (SS) Ret., formally of the Mariano G. Vallejo SSBN 658, Jul 73 to May 76


William Sonny Thomas died in September of 1998. Sonny served from 1970 to 1972. His former shipmates mourn his death.
Carl Desselle - Wednesday, December 19, 2001 at 21:33:27 (EST)


On 28 May 1992 we lost shipmate ETC (SS) Joe A. Brady, to an aneurysm while working on his retirement property in Oregon. Joe was a plank owner of the USS Mariano G. Vallejo Blue Crew and made her first patrols in the Pacific leaving the boat in 1968. Joe was the Reactor Control Leading Chief. Chief Brady returned to Vallejo in 1975 and served on her until 1977, and transferred to the Fleet Reserve in 1980. I know that I, his shipmates, and his dear wife Ruth miss Joe. Roger K. Shoemaker MMCM (SS) Ret., formally of the Mariano G. Vallejo SSBN 658, Jul 73 to May 76


This week we lost another shipmate. Karl Sax laid his oars to rest. God be with his family in their time of need.
Jim Carter, Reno, NV - Saturday, February 24, 2001 at 04:04:37 (EST)


Kenny Maxey came aboard the Vallejo the same time I did. We weren't really friends at first but after a patrol and working on ship quals together we very quickly bonded into one of those rare lasting friendships. Kenny was killed in a motorcycle accident shortly after his discharge in 1982. He is gone but never far away from my daily thoughts. The other friends I made on board, Joe Howenstein, Tom Bickerton and especially Jim Vennard have lasted me these 23 years and I hope to see them through to the end of my days. These men were the inspiration for this web project. After crossing their paths again following many years of separation, it gives me the drive to continue this all in the hope every shipmate that visits our site will find at least one long lost friend.
Jim Carter, Reno, NV USA - Saturday, February 17, 2001 at 20:18:09 (EST)
Tom Bickerton and Ken Maxey.



EM2(SS) Lyle O. Doody served aboard the Vallejo in 1974 - 1975. He was a member of USSVI Buffalo Base. Lyle passed away in North Tonawanda, NY, November 3, 2003, after a long illness.
Bruce McCausland, USSVI Buffalo Base, NY, USA - Wednesday, November 5, 2003 (EST)



TMC(SS) Dudley Koelman served aboard the Vallejo from the early 70's until 1977. He served as Chief of the Boat part of that time. Those of us who knew him will remember his great sense of humor and exceptional ability to motivate others and to "train" junior officers. He was always fair but demanding, and sugar-coated nothing! Dudley went on eternal patrol October 26th, 1996. The email address associated with his name on the Crewlist page is that of his son, Curt. Curt would love to hear from any of you who knew the one and only Dudley Koelman.
Curt Piper, Northern California, Wednesday, December 10, 2003 at 1:12 PM



MSCS(SS) Cecil Weeks served aboard Vallejo for over nine years. Cecil died February 28, 2004 at his home in Isle of Palms, SC. He was only 61. Cecil was very well liked and respected by his shipmates, and will be deeply missed.
Randy Bognar, MSC(SS), Ret. Monday, March 1, 2004.



Captain Henry John Schneider, USN served as Commanding Officer of Vallejo Gold (before the 1970 overhaul) and Blue Crew after the overhaul. Captain Schneider passed away on April 17, 2005. Born on January 29, 1934, he was a 1957 graduate of the United States Naval Academy. Captain Schneider made it his business to ensure that Vallejo came out of overhaul every bit the showboat she was going into the yards.
Edward J. Carey, AIC, CPC Alexandria, Virginia 22312. Sunday, May 1, 2005.



TM2(SS) Walter Harrison Jirak III (Blue Crew during Newport News overhaul) passed away January 1, 2005 at the age of 55. No additional information is known.
Robert McFarland, MT1(SS), Long Beach, CA 90808. Wednesday, July 13, 2005.



Bruce Bidwell, believed to be Gold Crew in the early seventies, passed away suddenly on February 6th, 2006. This information is provided by his brother, Keith, who adds that Bruce was very proud to have served aboard Vallejo and thought highly of his shipmates.
Keith Bidwell, Monday, February 13, 2006.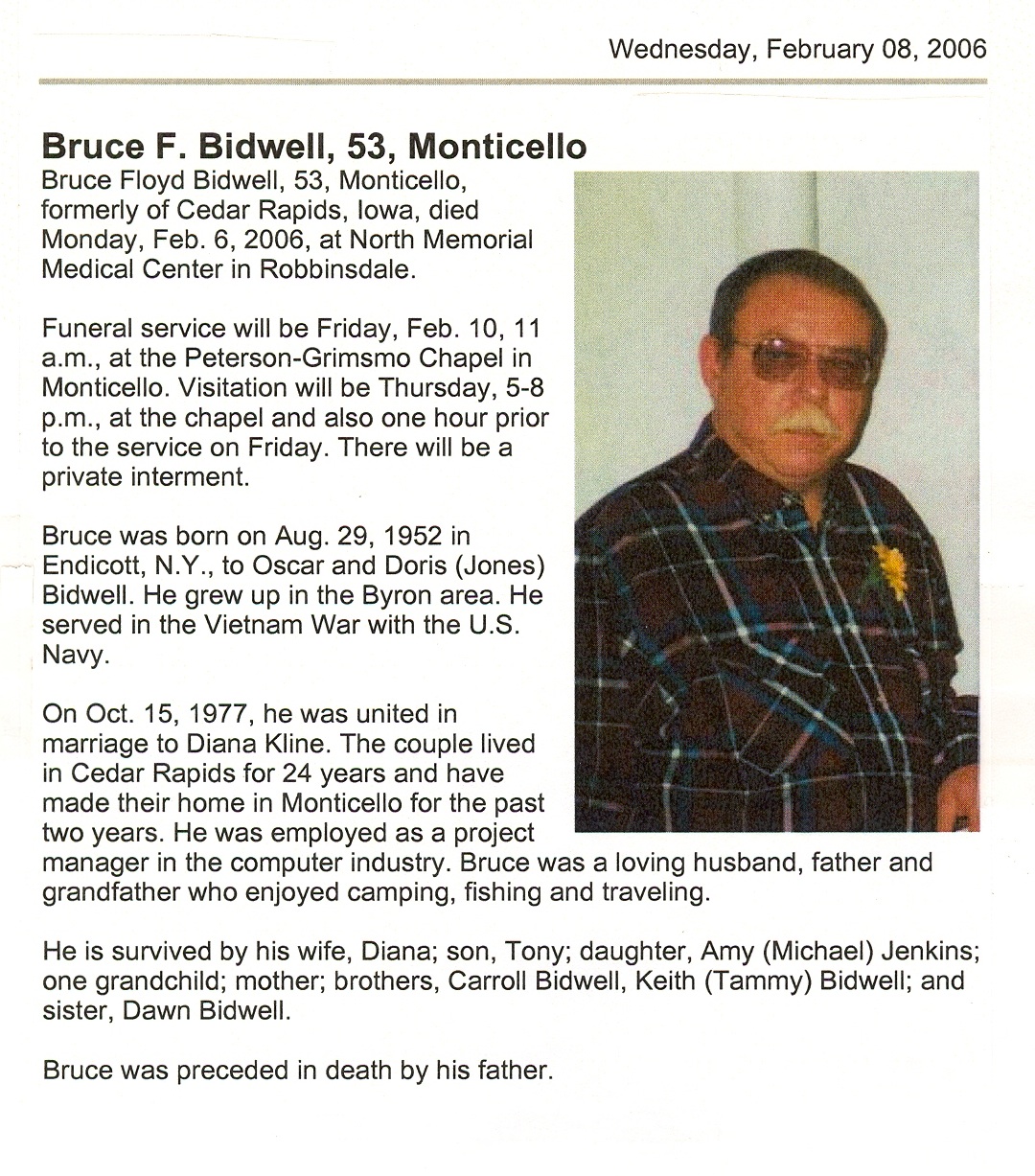 EMCS(SS) John David Cooper, Blue Crew in the early seventies, passed away May 17, 2006, in Charleston, SC. John attended recent reunions and had a number of interesting and funny stories to share. A good friend and shipmate, John will be missed!
QMC(SS) Jerry Farr, Ret. Sunday, May 21, 2006.

In behalf of the commissioning Blue Crew, I am submitting the following tribute to our beloved skipper, Doug Guthe:
Captain Douglas Guthe, a 1949 graduate of the Naval Academy, was in every sense of the term "a submariner's submariner." Captain "Goody" as he was affectionately known in the inimitable cartoons of the Blue Crew's weekly paper, was cool and professional when in a crisis, and was a warm and very affable friend to all when things were relaxed. As his XO, I was truly privileged to become a close friend and shipmate, but more than anything else, I learned from one of the best. In addition to being as smart as they come about things technical, he was a whiz at cards and dice games. We would go up to the club at Anderson and Captain Guthe would start a "friendly"game of horse or whatever at the bar, and sooner or later some poor USAF mullet would bite and the fun would begin. But he always let them get their losses back. Doug Guthe was one of the most capable officers I ever knew in 39 years in uniform, and I am absolutely certain that if his life had not been taken by lung cancer at the age of 46, he would have been selected for flag rank. The Navy lost a truly superb officer, and all of us who knew and served with him lost a great friend and shipmate.
Jim Sagerholm, VADM, USN (Ret.)
P.S. I bellieve his date of death was 2 May 1973.

On 10 May 2000 we lost shipmate ETCM (SS) Richard (Dick) Dietz to a fight with cancer. Dick served on Vallejo in 1972 to 1973, and according to his son, "Dad loved his submarines and his shipmates." He also said that "I was fortunate to have the 'Master Chief' as a role model."

On 18 May 2001 we lost shipmate ETCM (SS) Gary L. Patterson. Chief Patterson was a plank owner, serving aboard Vallejo from 1965 to 1968. Gary is survived by his wife Judy, who with his shipmates, miss him.

Lt. John J. Wandell Jr., was lost to us in 1967 to a boating accident in the coastal waters out of Bodega Bay in Northern California. His body was never found although the crew conducted several searches. His loss was taken very hard by the crew because he was well liked and the first person lost to a newly commissioned ship.

Walter B. (Berry) Davis who served as Navigator from 1976 to 1978 died from injuries in an automobile accident, in 1998. Berry is missed by his wife Carol Fairchild Davis and his shipmates.

A.T. (Teddy) Gardner, MM 1 (SS) a Gold Crew Plank Owner and who also serviced another tour from 1981 to 1984 aboard Vallejo, passed October 27, 1995. Teddy, who had had heart bypass surgery, died peacefully on his front porch after a walk with his wife.

Shipmate Donald R. Ammerman a Gold Crew Plank Owner Departed us in 1987 after retiring in Bremerton, WA.

Charlie Spelgatti MM1(SS), Gold Crew, 1968-1972. Charlie and I checked aboard the same day and became close friends. Charlie passed away from cancer in August of 1999. He is survived by his wife Jane, daughters Lonna and Cheryl and son Dan who is a chief in the Navy. Charlie Gettler, MMCM(SS)

ET1(SS) Archibald T. Porter: A Vallejo plank owner, on board when the ship was launched at Mare Island Naval Shipyard in 1966. Assigned to Gold Crew at Commissioning, he made four patrols in the RC Division before being transferred from the ship to Whidbey Island Naval Air station. He had previously served on other SSBNs before his assignment to the Vallejo. He later served on the USS Nautilus and USS Daniel Boone before retirement. After Navy retirement, Arch worked at Palo Verde Nuclear Power Station Unit #1 in Arizona as a Lead Instrument Technician for many years. Arch died of diabetic-related complications on 31 August 1997. Submitted by John Malik ETR2(SS)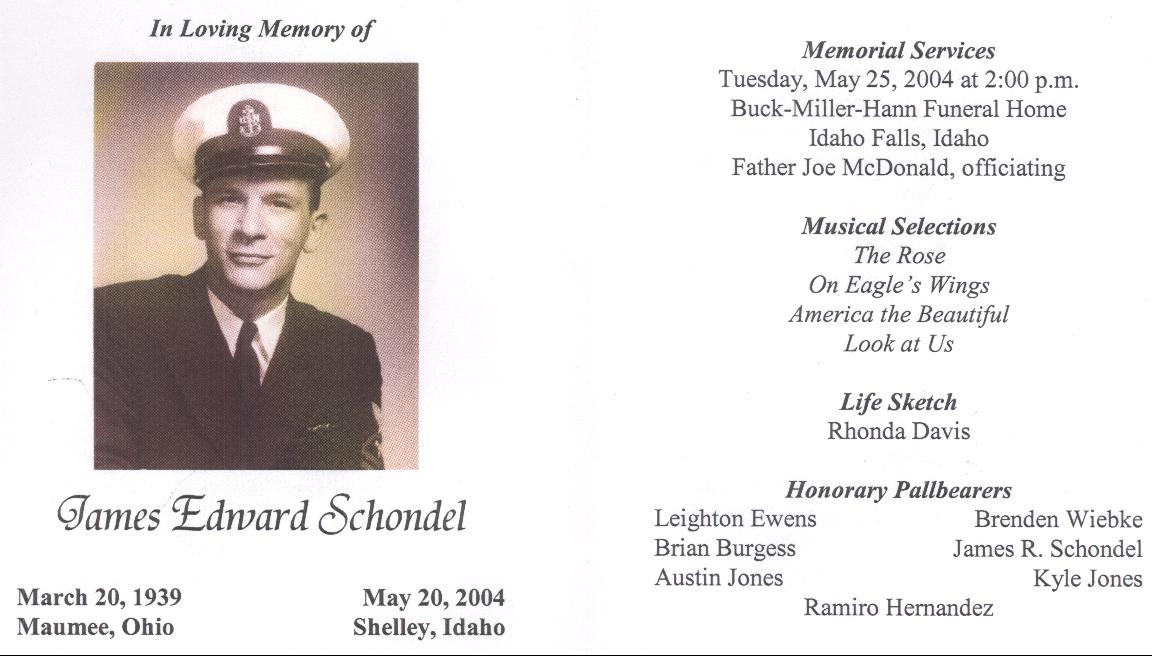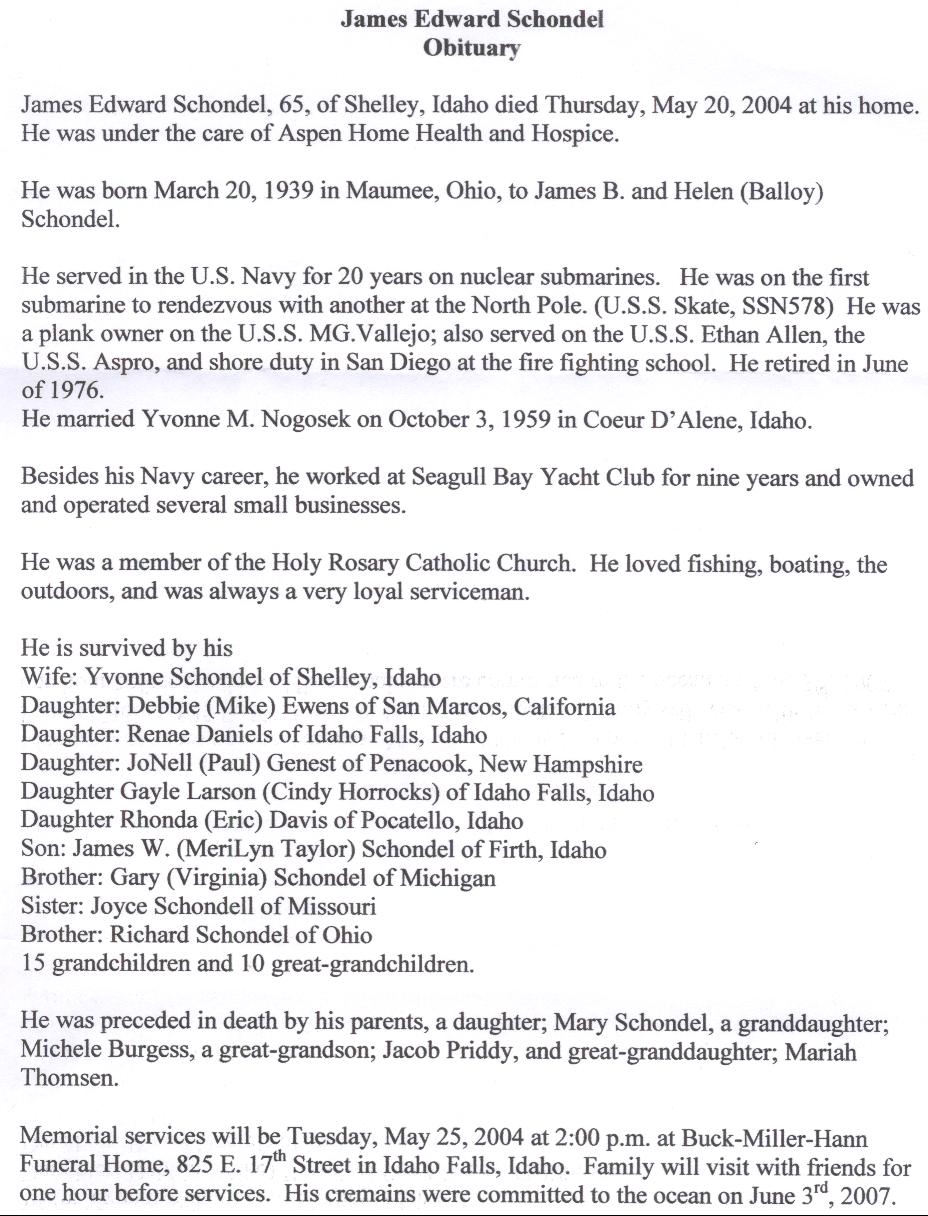 Submitted by Yvonne Schondel

Gerald A. "Jerry" Burns, of Evansville, Indiana, entered into eternal rest on February 4, 2008, after a brief illness. Jerry was born in Evansville on April 22, 1948, to Bernice A. Burns and Gerald W. Burns. He was preceded in death by his father in 1974, and his mother in 2004. Jerry proudly served in the U.S. Navy for 22 years after graduating from North High School in 1966. He was a submarine nuclear propulsion plant supervisor for 15 years. After retiring from the Navy in 1989 as Senior Chief, he spent 14 years with Westinghouse in Carlsbad, N.M. Surviving are two sons, Jason Burns of Sierra Vista, Ariz., and Kelly Burns and his wife, Rosemary, of Houston, Texas; three sisters and their husbands, Georgia and Jim Beck of Pace, Fla., Brenda and Bill Oster of Los Angeles, Calif., and Terry and Larry Campbell of Evansville; his brother and his wife, Larry and Cindy Burns of Boonville, Ind. Also surviving are grandsons, Cody Burns and Connor Nickoli; his uncle, Bob Hoeche; aunt, Joyce Mitchell; and his best fishing buddy for the past 25 years, Deborah Burns of Middleburg, Fla. Jerry had many friends all over the country and two special nephews he loved to share his fishing wisdom with, Michael Bagley and Puddin' (Ellis) MacHale. There are also many other special nieces, nephews, grandnieces and nephews and cousins left to share his memory. Friends may gather with the family from 11 a.m. to 1 p.m. Friday at Pierre FuneralHome, 2601 W. Franklin Street. Memorial services will be held 1 p.m. Friday, February 8, 2008, at Pierre Funeral Home, The Rev. Joshua Hammond officiating. Friends and family may leave condolences online at www.pierrefuneralhome.com.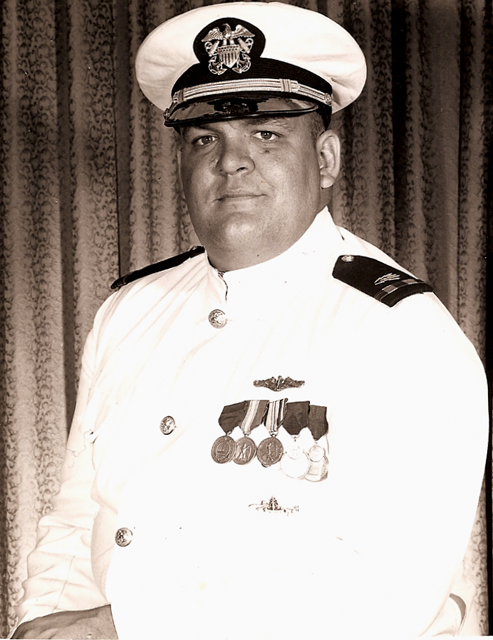 My father, CWO3 Rogers Masson, died on 31AUG89 in Asheville, NC. He joined the Navy in 1956 as an E1, found his way on to his first diesel boat, worked his way up through E9, became a CWO and a graduate of the Naval Postgraduate School, served on the Caiman, the Blackfin, the Redfin, the Dace, the Tullibee, the Patrick Henry, the Abraham Lincoln, and finally retired in 1978 having served on the 658 boat from 75-78 as the Assistant Weapons Officer under the command of Capt. Collins. I have few memories of his time in the Navy as I was only 10 when he retired, however I do have one that stands out clear. My dad had broken his leg and a patrol was coming up. He insisted on going, and I can remember watching him on crutches hobbling away from the car in to the dark towards the gate. This is truly what he loved to do, and truly who he was as a man. A submariner. My dad died while I was stationed at Little Creek, VA and I was honored to escort his ashes to the Portsmouth Naval Hospital, where I was born in 68, and later to USS Norfolk (SSN714) from which he was buried approx 36N by74W, fulfilling what he called his "…deepest honor, to be with my fellow shipmates of the Thresher as well as those who have gone before, and will go after.".
"I can imagine no more rewarding a career. And any man who may be asked in this century what he did to make his life worthwhile, I think can respond with a good deal of pride and satisfaction: 'I served in the United States Navy."' John F. Kennedy

We saw the postings on your Wonderful site for Sailors at Eternal Rest and wanted to send an update on Jim's death. He was killed in a car accident on June 7, 1978 in Indianapolis, IN at the age of 23 yrs. He had been working at a company that specialized in high air pressure systems using the skills he had learned in the Navy. He was very proud of his time spent on the Submarine and made lasting friendships while serving his Country. Thanks for the GREAT website! We enjoy seeing the pictures of Jim because they show that even while he was doing a serious job, he always found time to find humor and share it with others.
Sincerely, Tom Crowe (Brother)

If you have information that should be added to this page, please email it to me.